Pancakes for dogs - it's a thing. What better to do on a dreary, rainy day than to make some for your pup? Because maybe your dog needs soft snacks. Maybe your dog is allergic to store-bought treats. Or maybe... maybe... your dog is just spoiled. ❤️
That's Paisley (aka Miss P) in the photo. She actually does have an allergy to some ingredients in store-bought dog foods. And - big surprise - she is actually spoiled.
I had been wanting to make a pancakes for dogs recipe for a while. 1) I knew our dogs would love them, and 2) I wanted to see if Miss P has a reaction to pork.
We'd been fighting ear infections for over a year. We changed food several times, and a hydrolyzed kibble diet has helped a lot. However, I'd really love to be able to feed her some home made snacks.
So here we are... trying a protein that she's never had in commercial kibble.
If ever a dog prayed, it's Miss P praying she can keep eating these. I mean, my girl CAMPED OUT at the stove after sampling the first one. She was a literal speed bump in the kitchen.
Jump to:
Ingredients
Guess what. Surprise! Apple Cheddar Bacon Pancakes for Dogs contain:
apple ❤️
cheddar cheese 🧀
bacon 🥓
Perhaps not so surprising is that pancakes also usually contain baking soda or baking powder. I purposely created this recipe without those leavening agents, because they aren't good for dogs.
So you may notice that these pancakes are a bit dense and don't get fluff up. It's because the baking soda/powder is missing. But it's okay. Your dog won't care.
This recipe also calls for whole wheat flour. It's a bit healthier than all-purpose flour, but it will make your pancakes darker in color. Use all-purpose if that's what you've got on hand, and your dog wants these NOW.
Instructions
Apple Cheddar Bacon Pancakes for Dogs mix up quickly in one bowl.
You will save time if the bacon is already cooked. So make some bacon 1-5 days in advance and save some strips in the refrigerator for this recipe.
If you are frying the bacon right before you make the pancakes, save some cleanup by using the same skillet. Cook the bacon to just crisp, then set the strips aside to drain on paper towels. Pour the grease out of the pan, wipe the pan with a paper towel, and it's ready for pancakes.
Substitutions
Don't be afraid to play around with this recipe and make a variation with other foods that are safe for dogs to eat. Here are a few ideas for swapping out the ingredients.
Meat - Try browning some ground chicken or turkey and use about ¼ cup for 1x this recipe. Then freeze the rest in a freezer bag for future pancakes. Or eat it yourself in some red sauce or sprinkled on a salad.
Cheese - Shredded cheeses like cheddar jack, provolone, mozzarella, or colby jack would be fine. Just stay away from spicy cheeses like pepper jack.
Fruit - Any fruits or veggies that can be grated will work well in these pancakes. You may want to try a pear or a couple carrots or half a sweet potato.
Equipment
These items truly helped make this recipe a success.
12" Non-stick Skillet
The non-stick coating on this pan was the key to successful pancakes that contain cheese. I was able to make the entire batch without any of them sticking. It's also large enough to accommodate about 12 of these mini pancakes, which saves time.
0.33 oz Scoop
This scoop makes quick and clean work of dropping mini pancakes into the skillet. There's no scraping a spoon with your finger with a handy scoop like this. Man, I love my scoops.
Mini Stainless Steel Spatula
My mini stainless steel spatula made flipping these pancakes a breeze. Just take care not to scratch your non-stick skillet. I started with my favorite black nylon spatula. It was too thick to get under the pancakes, and the melty cheese stuck to it. Mini spatula saved the day!
Storage
These pancakes for dogs can be stored in a sealed baggie or container in the refrigerator for up to seven days.
You can also freeze the pancakes in a sealed freezer bag for up to three months. It's easy to pull some as you need them.
To thaw, pop a few in the microwave for a few seconds until just softened but not hot. Or take what you need for the week and place in the refrigerator. The pancakes will thaw overnight and stay good for up to seven days. (See last step of recipe for guidance on freeze/refrigerate times.)
Top tip
Keep your burner on medium-low and let the pancakes brown slowly on each side. Slow and low allows enough time for the middle to reach a safe temperature. Dogs can get salmonella from eggs just like people.
Related
Looking for other recipes for dogs? Try these: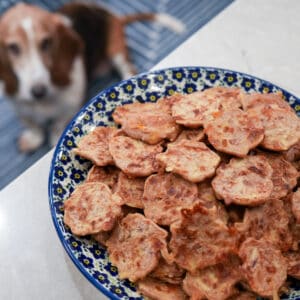 Ingredients
¾

cup

whole milk

1

egg

1

cup

whole wheat flour

3

bacon strips

cooked and chopped

1

small apple

peeled, cored, and shredded

1

cup

cheddar cheese

shredded
Instructions
Whisk together milk and eggs.

Add flour and whisk until combined.

Stir in bacon, apple, and cheese. I like to use a silicone scraper for this.

Preheat skillet on medium-low. Flick water droplets onto skillet; they will sizzle and evaporate immediately when skillet is hot.

Using a two-teaspoon (0.33 oz) scoop or a scant tablespoon, drop batter onto skillet, leaving room between each pancake.

You want these pancakes TINY... because they're SNACKS.

A 12" skillet will cook up to 12 mini pancakes at a time.

Batter will be thick, so give each drop of batter a little swirl with the back of scoop or spoon to spread/flatten a little.

Cook on medium-low heat for 4-5 minutes. Pancakes will look very dry on top.

Flip pancakes and cook for another 3-4 minutes. Both sides should be golden brown.

Transfer to plate to cool.

Repeat steps 5-6 until batter is gone.

Feed cooled pancakes to dogs (or humans) as snacks, being careful not to give them too many additional calories per day.

Place pancakes in sealed freezer bag or container.

Pancakes can be refrigerated for up to seven days.

Pancakes can be frozen for up to three months. To thaw, refrigerate overnight or microwave for a few seconds at a time until softened (but not hot).

The pancakes can only be refrigerated for a total of seven days. If frozen on the first day, thawed pancakes can be refrigerated for up to seven days. If frozen on the second day, thawed pancakes can be refrigerated for up to six days. Frozen third day, thaw and refrigerate five. You see how this works... 😊
Nutrition
Calories:
28
kcal
|
Carbohydrates:
2
g
|
Protein:
1
g
|
Fat:
2
g
|
Saturated Fat:
1
g
|
Polyunsaturated Fat:
0.1
g
|
Monounsaturated Fat:
0.5
g
|
Trans Fat:
0.002
g
|
Cholesterol:
7
mg
|
Sodium:
26
mg
|
Potassium:
18
mg
|
Fiber:
0.3
g
|
Sugar:
1
g
|
Vitamin A:
36
IU
|
Vitamin C:
0.2
mg
|
Calcium:
23
mg
|
Iron:
0.1
mg
Equipment
12 inch non-stick fry pan w lid
.33 oz disher/scoop (#100)
oxo angled measuring cup, 1 cup
As an Amazon Associate, I may earn a small commission when you click a link and make a purchase. Thank you for supporting Yappy Kitchen!