These raw meatballs for dogs can help stimulate the appetite for dogs who won't eat and provide added nutrition in any dog's diet.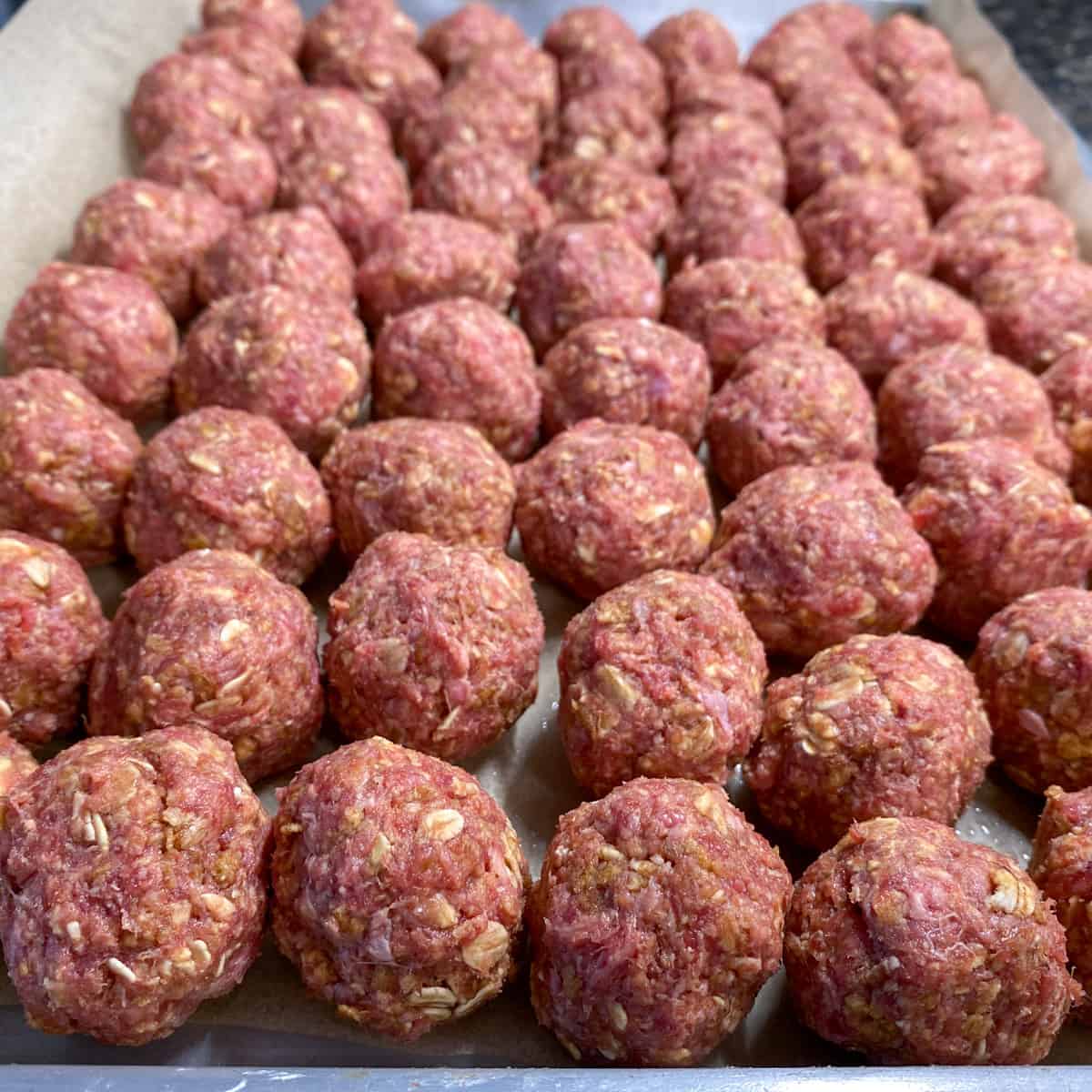 My first dog, Ella, lived to be a really, really old lady for a basset hound. When she was approaching the end of her 14 ½ years of life, her appetite waned. I was doing my level best to keep her interested in food.
In my internet searches for food she might like, I came across this recipe for raw meatballs.
The ingredients seemed like they would be enticing to a dog, so I made a batch. I have yet to cook one and try it myself, but I can tell you the smell is enticing for humans, too.
These meatballs were the only thing Ella would eat for a while. And the other dogs loved them, too!
Ella passed in 2008, and we still make these meatballs. We alternate them with other recipes like our chicken and rice for dogs and chicken, barley & veggies for dogs as a supplement on their kibble.
Jump to:
Ingredients
Let's break down why these ingredients are so good for dogs.
Beef and Eggs provide protein. Dogs don't store protein, so it has to be provided in the daily diet. Protein fuels energy and carries oxygen throughout the body in the blood. It also helps make antibodies that fight off infections and illnesses and helps keep cells healthy and create new ones. Here's a great but short article on the Power of Protein that's worth the read.

Rolled Oats and Cereal Grains provide carbohydrates, fat, and antioxidants. Grains help support healthy, skin, hair, and the immune system.

Wheat Germ is a great source of omega 3 fatty acids, vitamin B complex, and vitamin E. These help repair tissue damage and relieves dry, itchy skin. Wheat germ also supports heart health, cancer protection, and digestion.

Gelatin contains collagen and is a superfood for bone, joint, skin and hair health, seizures. and brain related issues. This article discusses many more details about how your dog can benefit from gelatin in their diet.

Molasses can be beneficial to your dog, depending on which type you use. First, make sure that the molasses does NOT contain any artificial sweeteners like xylitol, which is very harmful to dogs. Second, skip the light-colored molasses, which is too sweet and could be harmful to diabetic dogs.

Black strap molasses is the one to choose. Black strap molasses is absent all the sugars and contains beneficial vitamins and minerals like copper, iron, vitamin B6, magnesium, chromium, potassium, and manganese, and calcium. It also contains good cholesterol and healthy fats. Here's a great article on molasses for dogs. Your best resource, of course, is your veterinarian.

Salt is good for dogs in moderation, and the amount in this recipe is miniscule. Salt helps with nerve and muscle function, and it helps keep cells from dehydrating and swelling. However, too much salt is not a good thing. Check with your vet or eliminate it altogether if it is a concern.
Equipment
There are a few items that make this recipe easier.
Disher/Scoop - I love to use a 1-ounce scoop when portioning out the meatballs. It makes consistent size portions, so I know exactly how many extra calories are in each serving.
Disposable Vinyl Gloves - Disposable vinyl gloves make it easier (and cleaner) to mix and roll the meatballs. Ground meat doesn't stick to gloves like it does skin. Gloves make the process less messy, and it keeps raw meat off your hands.
Freezer Bags - We always make a large batch and freeze what we won't feed in a week. After the meatballs are individually frozen on a sheet pan, I place them all in a gallon-size freezer bag. They will store well in the freezer like this for 4-6 weeks.
Storage
Raw meatballs for dogs will store well in the refrigerator for up to seven days. Be sure to place them in a covered container or freezer bag to keep them from drying out.
To store in the freezer, first place meatballs in a single layer on parchment-lined sheet pan. Freeze for one hour. Then transfer meatballs to a freezer bag and continue to store in the freezer for 4-6 weeks.
Pro Tips
This recipe makes a lot of meatballs. It is likely more than you would feed your dog(s) in a week. So definitely freeze them as directed.
Thawing them in the refrigerator is always the recommended method. But what happens when you forget to transfer some out of the freezer in time?
These meatballs can be thawed in the microwave and still retain their rawness. Simply use defrost for a 5-10 seconds at at time. Alternately, cook for 5-10 seconds on a power level of 1 or 2. Check the meatballs and repeat the process until thawed all the way through but not cooked.
Every microwave is different. Be patient with the thawing process until you figure out the time and power level settings that work best for you. If you think about it, come back and leave a comment to let us know where you found success.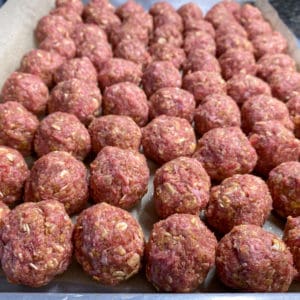 Ingredients
3

pounds

ground beef

80-85% fat

4

cups

Total cereal

do NOT get cereal with raisins

4 ½

cups

rolled oats

3

eggs

raw

1 ⅛

cup

wheat germ

3

packages

knox unflavored gelatin

6

tablespoons

vegetable oil

6

tablespoons

molasses

unsulphered

½

teaspoon

fine sea salt
Instructions
Pulse cereal in food processor or chop or crush until breadcrumb consistency. Set aside.

Lightly scramble or whisk eggs in large bowl. Add wheat germ, gelatin, vegetable oil, molasses, salt, and cereal. Mix well.

Add ground beef and rolled oats to bowl. With gloved hands, combine until evenly mixed.

Using a 1-ounce (2 tablespoons) scooper, portion and roll meatballs. Meatballs roll easier with gloved hands. Place rolled meatballs on parchment-lined baking sheet.

Place baking sheet of meatballs in freezer for 1 hour. Then place individually-frozen meatballs in freezer bag. Label and date. Meatballs can be stored in sealed freezer bag in freezer for up to three months.

Raw meatballs can be covered with plastic wrap and stored in refrigerator for up to seven days.

To thaw frozen meatballs for serving, place frozen meatballs in refrigerator for 24 hours.

Although not recommended, frozen meatballs can also be defrosted in microwave at very low power for 10 seconds at a time until soft but still raw.

Do not cook meatballs. These meatballs are meant to be served to dogs RAW.
Nutrition
Calories:
119
kcal
|
Carbohydrates:
10
g
|
Protein:
7
g
|
Fat:
7
g
|
Saturated Fat:
2
g
|
Polyunsaturated Fat:
1
g
|
Monounsaturated Fat:
2
g
|
Trans Fat:
0.3
g
|
Cholesterol:
15
mg
|
Sodium:
47
mg
|
Potassium:
168
mg
|
Fiber:
2
g
|
Sugar:
2
g
|
Vitamin A:
69
IU
|
Vitamin C:
1
mg
|
Calcium:
31
mg
|
Iron:
2
mg
Equipment
cuisinart 14 cup food processor
.94 ounce disher/scoop (#36)
ziploc freezer bags, 1 gal
As an Amazon Associate, I may earn a small commission when you click a link and make a purchase. Thank you for supporting Yappy Kitchen!