If Dry January turned out to be a try-out for a February do-over, this Ginger Lime Mocktail is for you. Choose this refreshing and and crisp mocktail instead of wine and enjoy better sleep, improved skin, a happier liver, and fewer calories.
That's right, fewer calories. The Ginger Lime Mocktail is a scant 94 calories in a 12-ounce serving. Compare that to 120 calories in a 5-ounce glass of wine. Oh, that's quite a difference.
And let's be REAL honest here. Hand over heart, scout's honor, cross your fingers... WHO is pouring a 5-ounce glass of wine? No one, that's who.
Now let's go ounce for ounce: 12 ounces of Ginger Lime Mocktail vs two 6-ounce glasses of wine. That's 94 calories vs 288 calories. Jeepers, wine is over three times the calories and a lot more alcohol in the same amount. 😳 Kinda eye opening.
So now who's enjoying larger drinks with a whole lotta upside? You are!
Jump to:
Ingredients
This recipe is super simple with only three ingredients. We've got:
ginger ale
lime
aromatic bitters
Bitters add balance and complexity to drinks, which translates to interesting, enjoyable flavor.
But, yeah, the elephant in the room is that aromatic bitters have a high alcohol content at 44.7% by volume. Whoa. That's a lot.
HOWEVER.
Each dash (⅛ teaspoon) is 0.02 ounces. When multiplied by the alcohol by volume (0.02 x .0447), you get an almost imperceptible 0.0089 ounces of alcohol. It is such an an insignificant amount of alcohol and, therefore, considered non-alcoholic.
That's why we can call it a mocktail.
Substitutions
Three ingredients do not allow much room for substitutions, but here are a couple ideas.
Ginger Ale - Canada Dry Ginger Ale is our go-to and works really well in this recipe. Try it with a ginger beer to give this drink a spicy zing!
Bitters - Angostura bitters are our choice. Orange bitters had once fallen out of favor, but they have been making a comeback. Give it a try, and let us know what you thought in the comments!
Equipment
This recipe requires very little equipment: a sharp knife, a cutting board, a citrus juicer, and a couple glasses. That's it. You can find the ones we love at the bottom of the recipe.
Top tip
Don't be tempted to add more bitters. When it comes to bitters, a little goes a long way.
FAQs
What are the health benefits of ginger and lime?
According to WebMD, ginger has been shown to reduce hunger, which can help people lose weight.

Healthline says limes are nutritional powerhouses, high in Vitamin C, antioxidants, and other nutrients that may help boost immunity, reduce heart disease risk factors, prevent kidney stones, aid iron absorption, and promote healthy skin.
What are aromatic bitters?
Bitters are made of water, alcoholic spirits, and botanicals such as spices, barks, fruits, roots, flowers, leaves, and herbs. They are added to cocktails and mocktails in very small quantities to add complexity and flavor. You can read more about bitters in this excellent article on Webstaurant.com's blog.
What if I don't have a citrus juicer?
No problem! Cup your hand, palm up, above the glass and squeeze the lime over it with your other hand. Let the juice run through your fingers into the glass while catching the seeds in your hand.

Just beware if you have any small cuts on your hand, because the lime juice is gonna sting a little. Drinking your mocktail will help you forget about it. 😁
Pairing
Appetizers like these will pair well with Ginger Lime Mocktails at your next party: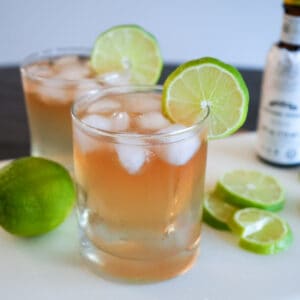 Instructions
Set out two 12-ounce rocks or juice glasses.

Cut lime in half. If you'd like lime slices for garnish, cut one slice of lime from each half.

Using citrus juicer, juice one lime half into each glass.

Pour ginger ale, dividing it between two glasses.

Add ⅛ teaspoon (about 10 drops) angostura bitters into each glass. Stir.

Add ice and garnish with lime slice, if desired.
Nutrition
Calories:
94
kcal
|
Carbohydrates:
25
g
|
Protein:
0.2
g
|
Fat:
0.1
g
|
Saturated Fat:
0.01
g
|
Polyunsaturated Fat:
0.02
g
|
Monounsaturated Fat:
0.01
g
|
Sodium:
17
mg
|
Potassium:
37
mg
|
Fiber:
1
g
|
Sugar:
22
g
|
Vitamin A:
17
IU
|
Vitamin C:
10
mg
|
Calcium:
18
mg
|
Iron:
1
mg
Equipment
rocks / juice glasses, 10 oz
18x12 green cutting board
As an Amazon Associate, I may earn a small commission when you click a link and make a purchase. Thank you for supporting Yappy Kitchen!