We are solidly in asparagus season, and this light and bright lemon asparagus orzo is will take you all the way through summer. It does triple duty as a side dish, a light meal, or a pasta salad. It's pretty darn great!
This recipe is perfect for spring and summer. It's bright and sunny, and it can be served warm, cold, or at room temperature.
You could technically call it Lemon Asparagus Pasta Salad, and you would not be wrong. With summer right around the corner, who doesn't love an interesting and beautiful pasta salad? Take this to a party or cookout, and I bet it disappears quick.
Jump to:
Ingredients
There's no long grocery list for this recipe. You may already have broth, olive oil, salt & pepper. You may even have a lemon and turmeric on hand.
Chances are all you really need to do is pick up some asparagus. Even if you don't have one single ingredient on hand, it's still a short shopping list.
Here's a quick run-down of the ingredients, minus salt & pepper:
asparagus
lemon
orzo
chicken or vegetable broth
turmeric
olive oil
See recipe card for quantities.
Instructions
This lemon asparagus orzo comes together quickly in a few really easy steps. Most of them will be completed while the pots of water boil for the asparagus and orzo.
While waiting for the pots of water to boil, do these tasks:
Trim the woody ends of the asparagus (see recipe for a handy way to do this) and cut the stalks into pieces.
Fill a large bowl with ice and add enough cold water to make it soupy. Be sure there's enough room in the bowl for the asparagus.
Whisk dressing ingredients together in another large bowl. (You'll use this bowl to combine everything.)
Add the asparagus and pasta to their respective boiling pots of water.
When the asparagus is done boiling, quickly drain it in a strainer and immediately add the asparagus pieces to the ice water.
When the pasta is done boiling, quickly drain it (you can use the same strainer) and add it to the dressing in the mixing bowl. Stir to distribute dressing. Let pasta cool a bit.
Skim the ice off the asparagus, then drain it (again, you can use the same strainer).
Mix asparagus with the cooled pasta. That's it!
Substitutions and Variations
You can have a lot of fun with this recipe by subbing pasta and veggies. And it can easily be made vegan, too!
Pasta - Other pasta shapes would work well with this recipe. You might try cous cous, pastina, orecchiette, fusilli, or farfalle (bowtie). Follow the instructions for al dente pasta, and tag @yappykitchen with your Instagram post!
Spices - The turmeric gives the pasta its pretty bright yellow shade. If you don't have turmeric, you can easily substitute saffron for the same amazing color. And if you don't have either of these, it's okay to leave them out. Your pasta won't be bright yellow, but it will still be delicious!
Vegetables - Blanch some fresh green beans (3-5 minutes for crisp-tender) instead. If you don't want to blanch anything, thaw a bag of frozen peas; they're already cooked and bright green!
Vegan - Use vegetable broth instead of chicken broth to boil the pasta.
Equipment
The tool I find most handy for this recipe is my 8" OXO strainer. I reach for it instead of my colander, and here's why:
The strainer makes quick work of draining the asparagus pieces and quickly getting them into the ice bath. I set it aside, because a few minutes later I'm going to grab it again to drain the orzo.
The colander is just too big and clunky for the tasks at hand here. Plus the strainer doesn't take up as much room in the dishwasher.
Storage
This dish is best when served and consumed the same day. However, leftovers can be stored in the refrigerator in a sealed container for up to 7 days. Keep in mind that pretty green asparagus might turn to a duller shade, but it's still good to eat!
Freezing lemon asparagus orzo is not recommended, simply because it is so good fresh.
Technically, you could do freeze it since the asparagus is blanched. If you decide to try freezing, place in a sealed freezer bag and label. Frozen pasta salad will be good for up to two months. Thaw overnight in freezer bag before serving.
Top Tip
Don't be tempted to boil the asparagus longer. An extra minute or two will change the texture and color, and it simply won't be as good.
FAQ
Do I have to put the asparagus in ice water? Can't I just drain it?
You can simply drain the asparagus, but there are a few reasons why blanching (boiling vegetables for a brief, set amount of time then plunging into an ice bath) is important.

Blanching puts a very quick stop to the cooking process. In doing so, the vegetables retain color, flavor, and texture. That's why the asparagus retains a little crunch, tastes great, and keeps that nice bright green color.

So to make this dish as pretty and as tasty as can be, take the time to blanch that asparagus.
Why don't you eat the ends of asparagus?
The bottoms of the stalk can be a bit woody and tough. It's a much better eating experience to trim the ends, so every piece is chewable. The only two choices for a tough piece of asparagus are swallow it or spit it out. And neither of those is ideal. HA!
Should I salt the water when blanching asparagus?
You can, but it is not necessary. (I don't salt the water for this recipe.) If desired, add approximately one tablespoon of sea salt or kosher salt per about eight cups of boiling water.
Related
If you love fresh summer pasta salads, definitely give our Mediterranean Pasta Salad a try, too!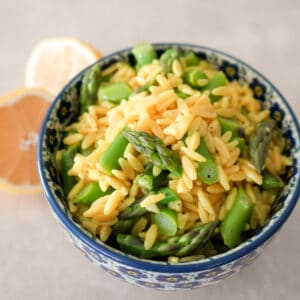 Ingredients
PASTA
9

ounces

orzo pasta

9 ounces = 4 cups

2

cups

chicken broth

use vegetable broth for vegan

2

cups

water

¼

teaspoon

fine sea salt

¼

teaspoon

turmeric
Instructions
ASPARAGUS
Boil about 5 quarts of water in stock pot.

A pasta pot (stock pot + strainer insert) is great for blanching vegetables. If you don't have one, no problem! A colander will work just fine.

Add ice to fill half a large mixing bowl. Add cold water to just cover ice. Set aside.

Remove woody end of each asparagus spear by allowing it to break naturally at lowest point near base of spear.

Cut asparagus spears into ½-3/4" pieces. Add to boiling water.

Boil for ONLY two minutes.

Quickly remove asparagus from boiling water and immediately plunge into ice water (blanching). This can be done by either lifting strainer insert out of pasta pot or quickly draining asparagus into a strainer or colander.
PASTA
Bring chicken (or vegetable) broth, water, salt, and turmeric to boil.

Add orzo pasta and boil for 9 minutes or until al dente, stirring occasionally.

Drain pasta in strainer, but do not rinse. Transfer to serving bowl.
DRESSING
Add garlic, salt, and pepper to small mixing bowl (or simply use the 4-cup measuring cup used to measure the broth and water for the pasta).

Zest lemon into garlic mixture. Then cut lemon in half and juice it into garlic mixture.

Using a whisk or stick blender, drizzle in olive oil to emulsify.
FINISH
Stir dressing into orzo pasta.

Skim ice cubes out of asparagus bowl. Then drain asparagus in strainer (same one used for the pasta).

Add asparagus to pasta; stir.

Serve warm or cold as a side dish or pasta salad. Enjoy!
Nutrition
Serving:
1
cup
|
Calories:
264
kcal
|
Carbohydrates:
37
g
|
Protein:
8
g
|
Fat:
10
g
|
Saturated Fat:
1
g
|
Polyunsaturated Fat:
1
g
|
Monounsaturated Fat:
7
g
|
Cholesterol:
2
mg
|
Sodium:
493
mg
|
Potassium:
294
mg
|
Fiber:
4
g
|
Sugar:
3
g
|
Vitamin A:
578
IU
|
Vitamin C:
14
mg
|
Calcium:
40
mg
|
Iron:
2
mg
Equipment
18x12 green cutting board
As an Amazon Associate, I may earn a small commission when you click a link and make a purchase. Thank you for supporting Yappy Kitchen!
Food Safety
When serving pasta salads, they usually taste the best at room temperature or slightly colder. HOWEVER, always be mindful of food safety!
Cooked food should never stay at room temperature for more than TWO HOURS.
Read more about food safety on the USDA web site.