If you practice a low carb diet, or you just love sausage, eggs & cheese, or if one-pan meals are up your alley... this southwest breakfast skillet is for you! And wait. It gets even better: it comes together pretty quick, because it cooks each step as you prep the next.
I threw this together last weekend, and it's a sure keeper. You can bet we'll be making this again soon.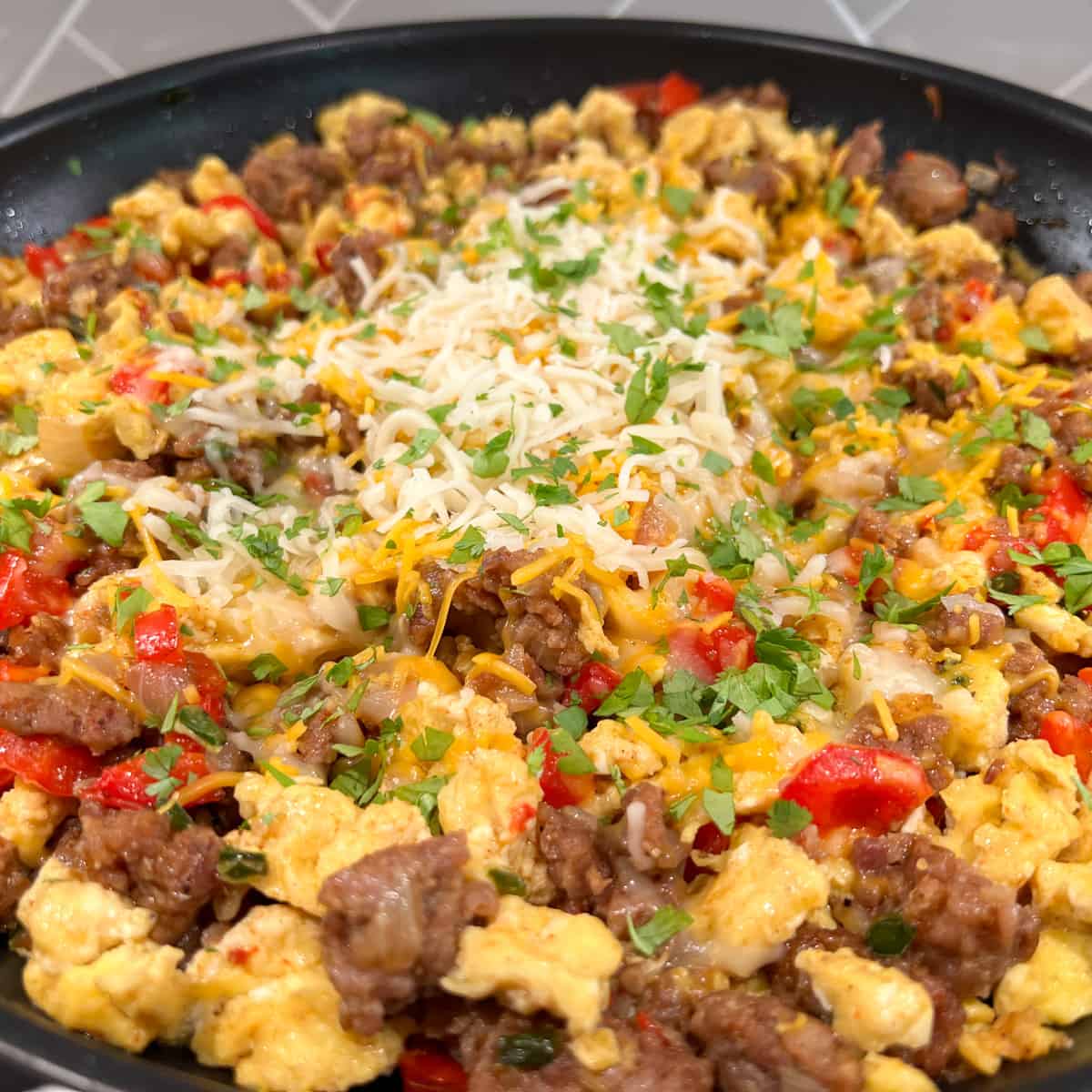 This recipe was inspired by two things:
One - I am trying to eliminate my usual diet of a gazillion carbs/day, so I can trim down a bit. Because, seriously. How long can I blame the pandemic for these bad habits?
And Two - Our hearty breakfast burritos gave me a great base to make a kicked-up low-carb recipe.
I thought I would miss the tortillas in this low-carb version. The only thing I miss about wrapping this filling into burritos is the portability.
A pleasant surprise is how long this makes me feel full. Not stuffed, just satisfied. We ate it mid-afternoon on a Sunday, and I didn't feel hungry the rest of the day. That's a big win, because my brain is always telling me I'm hungry (even when I'm not).
Jump to:
Instructions
Here are a couple photos of the egg scrambling process, so you can see what it looks like for me.
The eggs were allowed to set and then stirred a couple times, but they are still runny in this photo.
Now the eggs are done and ready to be combined with the sausage and veggies. Almost ready to eat!
While scrambling the eggs, a few sausage and veggie pieces will get mixed in, and some egg will get under the sausage. That's okay! The goal is to not coat the sausage in egg. That would look gross! 🤭
Hint: If you use ground turkey or chicken sausage instead of pork, you may want to add a couple teaspoons of butter or vegetable oil to the skillet before frying the eggs. You don't have to do that with pork sausage because of its fat content.
Substitutions and Variations
It's pretty easy to make substitutions to fit some common diets.
Dairy Free - Simply eliminate the cheese and heavy cream (see Pro Tip below) to accommodate a dairy-free diet.
Pork Free - Substitute an equal amount ground chicken or turkey if pork isn't something you eat.
Less Spicy - Replace the jalapeño and serrano with a small green bell pepper.
Vegetarian - The sausage can be replaced with extra firm tofu, pressed and cut into ½" cubes, and fried in 1-2 tablespoons of vegetable oil.
Even if your reader doesn't follow a specific diet (eg. gluten free), they may have friends or family that they're cooking for that could use this. This is also a great idea to link out to another blogger with a similar recipe that fits a different diet.
Equipment
These three items are my go-tos for this recipe, along with why I reach for them.
12" Non-stick Skillet
The size is important in order to have enough room to make this all in one pan. The non-stick surface definitely helps when scrambling those eggs. A stainless pan will work just fine, of course, but it's easier in the non-stick.
My Favorite Nylon Spatula
This particular spatula is my all time favorite. It's heat resistant to 450 degrees F, and it's wonderful when cooking in a non-stick pan. You can break up the sausage with it while it cooks and scramble those eggs without worrying about scratching the non-stick surface. If you don't have one of these (or something similar), a non-stick pan is probably not a good idea.
Onion Goggles
When I wear contacts, cutting onions never bothered my eyes. When I don't wear them, my eyes tear and burn so much that I can barely open them. Onion goggles to the rescue. These babies really work!
Storage
Leftovers or meal prep can be refrigerated in a covered container for up to seven days.
This recipe can also be frozen for up to a month. When ready to eat, simply thaw and reheat on stove or in microwave.
Pro Tip
Unless you require a dairy-free diet or are conscious of your fat intake, don't eliminate the heavy cream. You can substitute the heavy cream with a lower fat dairy product, like whole or 2% milk. The end result will be very good - just not AS good.
The heavy cream is the trick to ensuring that the eggs freeze well and thaw to the best consistency. Cooked scrambled eggs without cream or milk can still be frozen and reheated and taste just fine. However, the eggs will tend to be a bit firmer without the extra fat to keep them soft in the freeze/reheat process.
Ingredients
1

pound

ground sweet italian sausage

substitute ground chicken or turkey for pork free; extra-firm tofu for vegetarian

1

tablespoon

taco seasoning

1

yellow onion

1

red bell pepper

1

jalapeno pepper

1

serrano pepper

8

eggs

2

tablespoons

heavy cream

omit for dairy free

½

teaspoon

fine sea salt

¼

teaspoon

black pepper

½

cup

cheddar cheese

shredded; omit for dairy free

½

cup

monterey jack cheese

shredded; omit for dairy free

1

tablespoon

fresh cilantro

optional
Instructions
Place sausage in a 12" non-stick fry pan over medium heat.

Using nylon spatula, break into pieces and stir occasionally.

Vegetarians, press and cube extra-firm tofu and fry in 1-2 tablespoons vegetable oil.

Stir in taco seasoning to coat.

While sausage cooks, peel and dice onion. Add to sausage and stir.

While sausage and onion cook, seed and dice peppers. Add to fry pan and stir.

While sausage, onion, and peppers cook, crack eggs into mixing bowl. Add salt, pepper, and heavy cream. Whisk until well blended.

Sausage should be cooked through and beginning to brown, onion should be translucent and starting to caramelize. Peppers are bright and softened.

Heap this mixture to one side of the pan. Reduce heat to medium-low.

Slowly add egg mixture to empty side of pan. Let eggs cook a few minutes or until they begin to solidify around the edges. Stir with nylon spatula.

Repeat this process, chopping a little as you stir, until eggs are nicely scrambled. Some sausage and onion bits will get mixed in, and that's okay. Keep them separate for the most part.

Once eggs are thoroughly cooked, stir to combine sausage mixture with egg mixture.

Remove from heat. Chop cilantro.

Top breakfast skillet with cheeses and cilantro, if desired.

Serve hot. Enjoy!
Notes
This recipe is great for meal prep/leftovers and can be refrigerated for up to five days.
This recipe can also be used as a filling for breakfast burritos.  Check out our Vegetarian Breakfast Burritos for information on how to prepare and freeze.
Nutrition
Calories:
676
kcal
|
Carbohydrates:
7
g
|
Protein:
35
g
|
Fat:
56
g
|
Saturated Fat:
23
g
|
Polyunsaturated Fat:
7
g
|
Monounsaturated Fat:
22
g
|
Trans Fat:
0.03
g
|
Cholesterol:
449
mg
|
Sodium:
1477
mg
|
Potassium:
556
mg
|
Fiber:
1
g
|
Sugar:
3
g
|
Vitamin A:
1885
IU
|
Vitamin C:
48
mg
|
Calcium:
290
mg
|
Iron:
3
mg
Equipment
12 inch non-stick fry pan w lid
18x12 green cutting board
As an Amazon Associate, I may earn a small commission when you click a link and make a purchase. Thank you for supporting Yappy Kitchen!
Food Safety Tips
Cook beef, pork, and poultry to a minimum temperature of 165 °F (74 °C).
Do not use the same utensils on cooked food, that previously touched raw meat.
Wash hands after touching raw meat and eggs.