This pasta carbonara has a few steps, but it's really easy to pull together. With pretty farfalle pasta and green peas to ease the guilt and add color, it's a feast for the eyes and belly.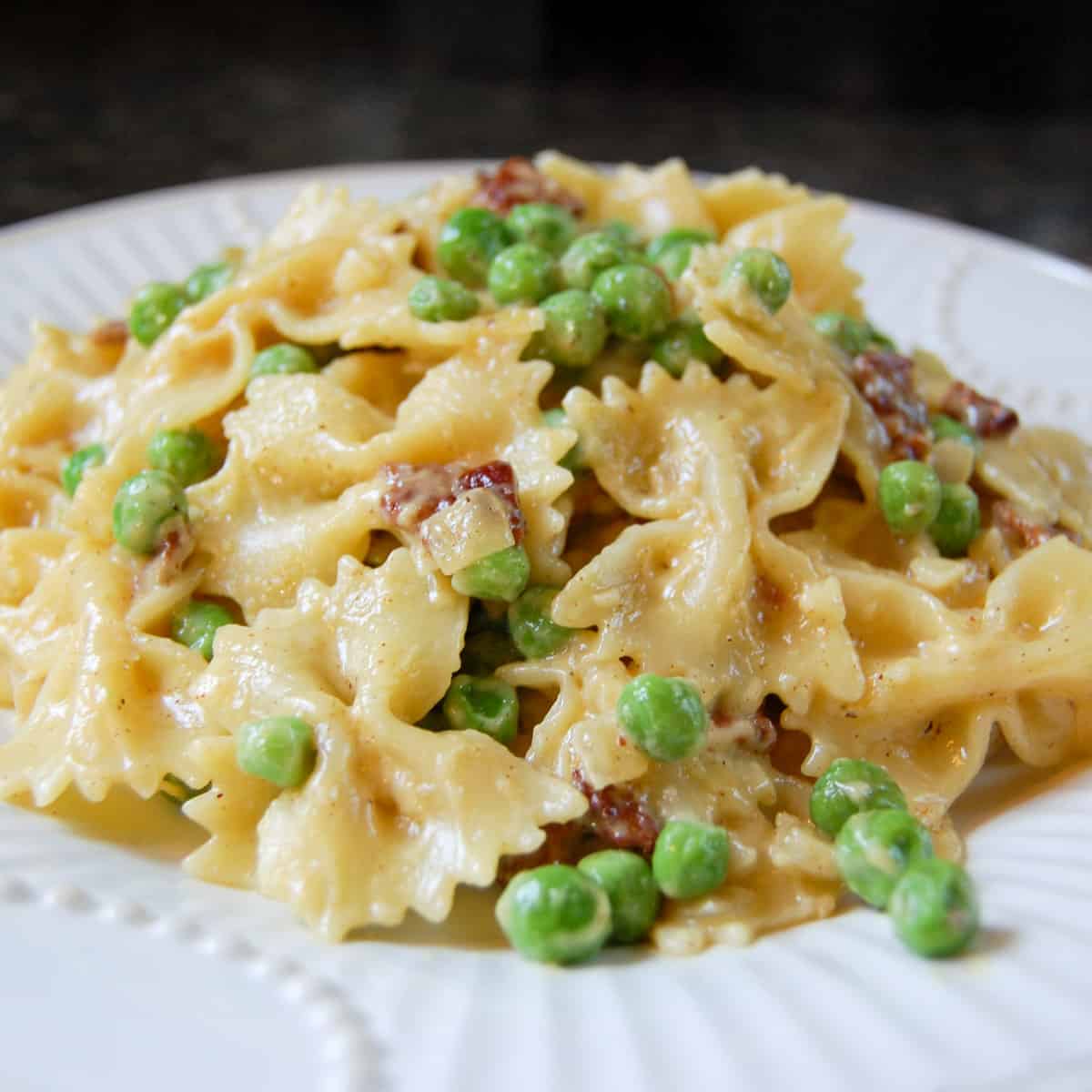 Years ago in my past life as a personal chef, I would often put this recipe on the weekly menu for my clients. One client would request it without peas, as her children were adverse to anything green. Several clients added baked garlic chicken breasts that I'd slice and add on top. No matter what variation was requested, this pasta carbonara was really popular.
I believe this recipe was initially inspired by The Pioneer Woman's Pasta Carbonara. You cannot go wrong with anything she makes, so her recipe was a great guide for developing my own recipe.
I adjusted the quantities without sacrificing flavor. For example, I really like frozen peas, but I really don't like keeping a partial bag of peas in my freezer. So I use the entire bag. Same goes for a box of pasta. Same for bacon. You get me.
Then I increased the sauce ingredients to cover the extra peas, pasta, and bacon. Because the sauce is where it's at. Too little sauce is so sad. Right? Right.
Jump to:
Ingredients
Let's yap about these ingredients a minute.
The pasta you choose really doesn't matter. I love to use farfalle (bowties), because it's pretty, interesting, and fun. Let us know in the comments what pasta noodle you like to use and why; we'd love to hear it!
Frozen peas are perfect for this recipe. They are already cooked, so they just need to thaw and then come to temperature with the pasta. Plus, they taste way better and the bright green is

much more attractive than canned.

The bacon. It really doesn't matter if you cook the strips, then crumble. However, I like to chop it while it's raw, then fry it up. It's less messy that way. And, use real bacon - no bacon bits here!
The same goes for the parmesan. No canned parmesan here. If you're feeling ambitious, grate the parmesan yourself. Or get the good stuff that's pre-grated at the deli. The recipe will be much better for it. The canned parmesan in the shaker is okay for pizza, but it probably contains anti-caking agents like cellulose. While it won't harm you, the canned cheese won't melt and yield a silky sauce like fresh parmesan will.
Variations
The only modifications I've made to this pasta carbonara are the ones I mentioned above (omitting the peas and adding chicken). I hesitate to recommend making changes, because the flavors work so well together.
If you substitute anything, I'd love to hear what you did and how it turned out. Leave a comment to let us know!
Equipment
My favorite kitchen tools to use for this recipe are the red santoku knife and the silicone spoon spatula. Here's why.
The Mercer Culinary Santoku knives have been my very favorite for a long time. They have great balance and a comfortable handle with a non-slip grip. I run the blade through this inexpensive hand-held knife sharpener a couple times before each use, and it stays nice and sharp. A sharp knife is a safe knife, and that is SO important.
If you are wondering why the red knife (and red cutting board) are designated for this recipe, it's because color-coding is a food safety measure in commercial kitchens. Red tools are for raw meats such as beef and pork.
The silicone spoon spatula is a tool I use a lot! It's soft, smooth edges make it great for gently stirring pasta. Sauces don't stick to silicone. And silicone is heat resistant and won't scratch your pans and bowls. I reach for this spatula so much. It was perpetually in the dishwasher, so now I have a few!
Storage & Reheating
Some recipes are best the minute they are cooked. Some recipes, like red sauce, taste better the next day after the ingredients meld and become more flavorful. I think pasta carbonara is still pretty good as leftovers or frozen, but truly it is best fresh off the stove.
Leftovers can be refrigerated in a sealed container for up to seven days.
This recipe will freeze well in a sealed freezer bag for up to a month. However, the consistency of the sauce will not be the same as when it is fresh off the stove. It will still taste great, though. Thaw overnight in the refrigerator and reheat as recommended above.
This dish reheats well in the microwave or on the stovetop in a non-stick pan, albeit the pasta will have absorbed some of the sauce.
Pro Tips
The main keys for success with this recipe are cooking the pasta and stirring in the sauce.
The Pasta
First of all, always cook pasta in salted water - unless otherwise directed by your doctor. Pasta should be boiled in water that is salty like the sea, which enhances the flavor of your dish without making it salty, per se.
Also concerning the pasta... Whatever pasta shape you choose, be sure to refer to the directions. Different pastas take different amounts of time. Always choose the time that yields al dente pasta. You want that pasta to have the teeniest bit of firmness at the center. If you cook the pasta too long, it will be mushy. It will also not hold up well when stirring in the other ingredients.
The Sauce
Carbonara sauce is typically combined with the pasta as soon as it is drained and still very hot. This method makes it difficult to know that the egg is heated through.
Because I was cooking this professionally for children, elderly, and potentially people with compromised health, I had to make sure that the sauce was brought to a safe temperature.
I found I could place the drained pasta back into the pot and return it to very low heat. By gently stirring the pasta while slowly adding the egg mixture, I was able to combine it without scrambling the egg. Then I could continue to heat the pasta to a safe temperature and maintain the silkiness of the sauce. Take your time stirring in the sauce; it's worth it!
Food safety
It is not recommended for young children and the elderly to consume raw eggs.
Follow the steps recommended below and use a food thermometer to ensure that the finished pasta carbonara is at or above 165° F (74° C).
Do not use the same utensils on cooked food that previously touched the raw eggs.
Don't leave food sitting out at room temperature. Always refrigerate or freeze after food has come down to 135° F.
Never leave cooking food unattended.
See more guidelines at USDA.gov.
Ingredients
thaw
12

ounces

frozen peas

or more or less... whatever size bag you want
boil
16

ounces

pasta

farfalle is our fave, but you do you.

1

tablespoon

fine sea salt
fry
1

pound

bacon slices

chopped

2

teaspoons

garlic

minced

1

onion

diced small
Instructions
Set peas out to thaw while preparing the pasta and sauce. Easy peasy. I love puns!

Bring four quarts of water and sea salt to boil. Add pasta and boil according to package directions for al dente.

While the pasta is cooking, fry the bacon until just crisp. Remove from the pan with a slotted spoon or spatula and drain on paper towels.

Pour the bacon grease into a separate bowl, leaving some grease in the pan to cook onions and garlic.

Return the pan to the stove over medium-low heat; add the onions and garlic and cook, stirring occasionally, until onions are translucent and beginning to brown. Set aside.

In a separate bowl, whisk together eggs, Parmesan, cream, salt, and pepper until smooth.

When the pasta is done, reserve two cups of pasta water and turn off the burner.

Drain the pasta in a colander. Shake it around a little to drain it real well, but DO NOT RINSE. Return the pasta to the still-warm pot.

Over very low heat and while the pasta is still hot, slowly drizzle in half the egg mixture, gently stirring the pasta the whole time.

NOTE: Keeping the heat really low ensures that the egg mixture heats to a safe temperature but does not scramble the eggs. You want the result to be a thin sauce that evenly coats the pasta.

The sauce will thicken a little bit. Add the reserved pasta water a little at a time if needed to thin the sauce.

Stir in the peas, bacon, and sautéed onion/garlic.

Slowly stir in the rest of the egg mixture until it's all combined and heated through. Remove from heat.

Serve immediately. Enjoy!
Nutrition
Calories:
635
kcal
|
Carbohydrates:
19
g
|
Protein:
24
g
|
Fat:
52
g
|
Saturated Fat:
23
g
|
Polyunsaturated Fat:
6
g
|
Monounsaturated Fat:
19
g
|
Trans Fat:
0.1
g
|
Cholesterol:
218
mg
|
Sodium:
2466
mg
|
Potassium:
654
mg
|
Fiber:
5
g
|
Sugar:
8
g
|
Vitamin A:
1676
IU
|
Vitamin C:
30
mg
|
Calcium:
226
mg
|
Iron:
3
mg
Equipment
oxo angled measuring cup, 1 cup
As an Amazon Associate, I may earn a small commission when you click a link and make a purchase. Thank you for supporting Yappy Kitchen!