Let's yap about playing favorites.
We all have our favorite part of Thanksgiving dinner. What's yours? Mine is the stuffing, and it's because my Mom's recipe is the best I've ever had. These stuffing balls are just like Mom's without having to roast a turkey to get that roasted-bird flavor. And because they freeze so well, you can have stuffing year round. Yay!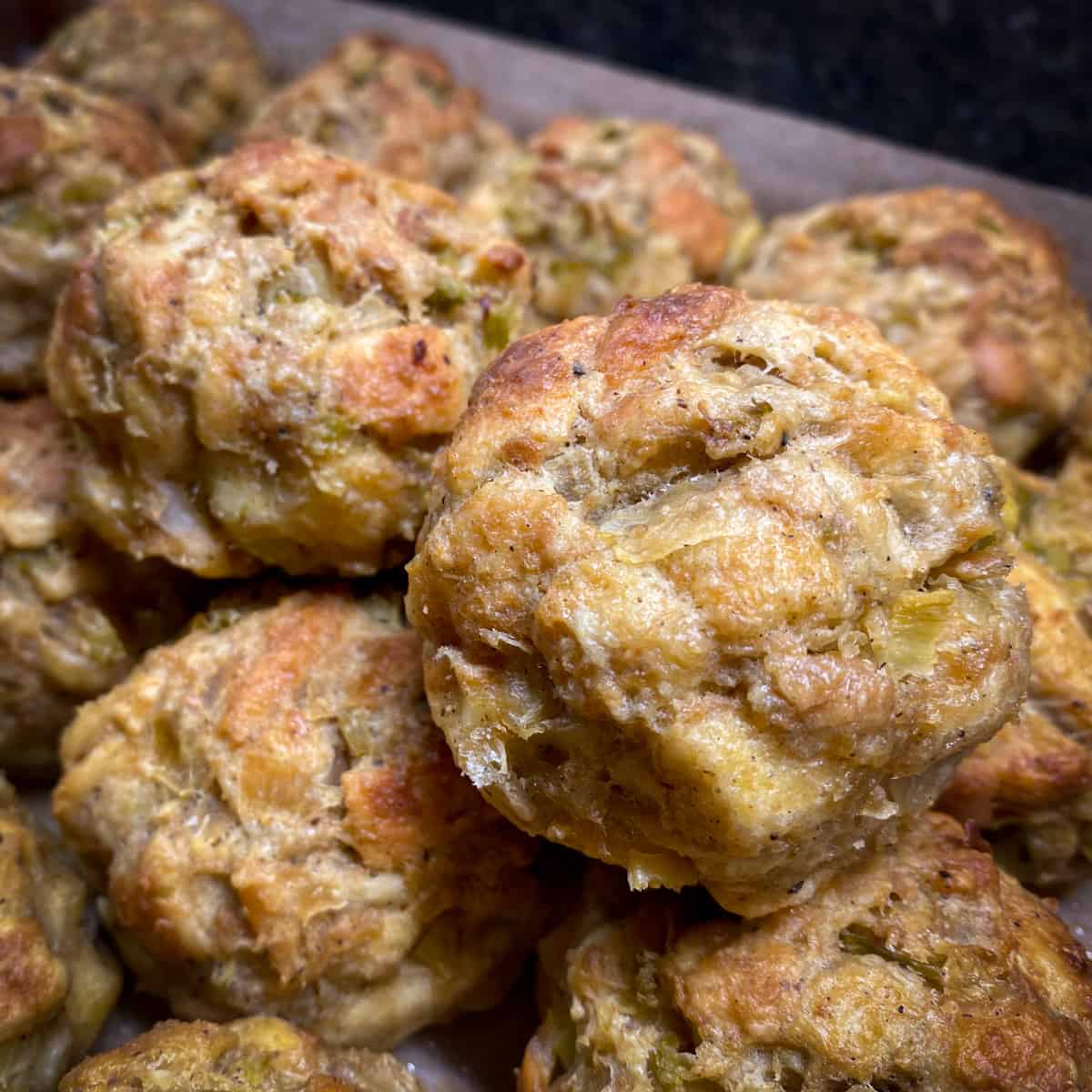 The day before Thanksgiving, Mom would mix up a giant batch of stuffing in the roaster pan. Then she packed all she could into the turkey. She stuffed it solid. When one more morsel wouldn't fit, the rest was put in a casserole dish.
Because, you know, making less stuffing simply didn't make sense. But leftovers - that's a good idea! It'll be just as good as the stuffing in the bird. Sure it will.
Uh, nope... not even close.
The Hard Truth (Sorry, Mom!)
Casserole dish stuffing is sad. It's sad and no one wants it. It's okay... but it's not delicious like the good stuff that was baked in the bird.
It was destined for a short life in the refrigerator. The week following Thanksgiving, casserole dish stuffing got shoved around and bypassed in the hunt for leftovers. Ultimately, it got tossed in the trash. Pert near very year. You could bet on it.
The Happy Ending
That's not where this story ends, friends. Last year, I got the notion that I could/should have terrific stuffing without roasting a turkey to get it. I did some research... ran some tests (meaning we ate a boatload of stuffing balls). And I did it!
This is as good as it gets for stuffing like Mom's, and it's got some serious wins:
No bird required - yay!
Perfect portion size - yum!
Freezer-friendly - yeah!
Freezer-friendly means two things: 1) you can make that giant batch, and none of it goes to waste, and 2) they reheat BEAUTIFULLY! I keep these in the freezer all the time now. They are great for a quick, savory mini meal -- straight from the freezer to the microwave to the belly in minutes.
They're also ideal to-go, because they're no mess. When we're out of breakfast burritos, I sometimes eat a couple stuffing balls for breakfast in the car on my way to work. I mean, they are essentially toast, eggs & butter with some bonus vegetables. Right? Right.
So enjoy these for Thanksgiving or any ol' time of year. And say no to sad casserole dish stuffing. Forevah.
FAQ
Can you freeze stuffing balls?
YES! They freeze and reheat amazingly well. Simply place in a ziploc freezer bag, label, date, and place in freezer. Stuffing balls will stay good in the freezer for two months.
Ingredients
60

ounces

white bread

(3 large loaves), cut or torn into bite-size pieces

1 ½

cups

unsalted butter

divided

2

large

yellow onions

diced small

1

stalk

celery

(about 7 ribs), diced small

10 ¾

ounce

canned cream of celery soup

10 ¾

ounce

canned cream of chicken soup

vegetarians: use all cream of celery soup

1

cup

chicken broth

vegetarians: use vegetable broth

1

tablespoon

fine sea salt

1

tablespoon

black pepper

1

tablespoon

poultry seasoning

1

tablespoon

ground sage

6

eggs

beaten
Instructions
Cut bread (about 3 slices at a time) with bread knife or tear bread into bite-size pieces. Place on sheet pans. Let dry overnight or place in 325 degree oven for 30 minutes, stirring half way through.

Melt ½ cup butter in large canning pot (16 quart or larger) over medium heat. Add diced celery and onions. Sauté, stirring often, until vegetables are soft and translucent.

Add remaining 1 cup of butter and let melt. Stir in soups, broth, salt, pepper, poultry seasoning, and sage.

Add bread and mix until evenly coated, either by hand or with a sturdy spoon.

Drizzle about ⅓ of the eggs over the bread mixture and combine until evenly coated. Repeat two more times until eggs are all combined with bread mixture. The consistency should be that of a good meatball: holds shape when pressed together.

Using a ⅔ measuring cup or a #6 disher (about 5 ounces), scoop stuffing mixture and shape into balls. Place on a baking sheet, lined with parchment and coated with non-stick spray.

Bake at 325 degrees for 50 minutes, or until stuffing balls are golden brown and start to crisp.

Serve hot, plain or with gravy.

Store in refrigerator for up to seven days or place in freezer bag with label and date. Stuffing balls can be frozen for up to three months.

To reheat: Place on baking sheet, lined with parchment and coated with non-stick spray. Cover and bake in 325 degree oven for 30 minutes or until heated through. Or microwave 12 stuffing balls on place at 70% power for 4 minutes or until heated through. Stuffing balls will take longer if reheating from frozen state.
Nutrition
Serving:
1
ball
|
Calories:
222
kcal
|
Carbohydrates:
25
g
|
Protein:
6
g
|
Fat:
11
g
|
Saturated Fat:
6
g
|
Cholesterol:
49
mg
|
Sodium:
566
mg
|
Potassium:
102
mg
|
Fiber:
2
g
|
Sugar:
3
g
|
Vitamin A:
326
IU
|
Vitamin C:
1
mg
|
Calcium:
139
mg
|
Iron:
2
mg
Equipment
18x12 green cutting board
4.75 oz disher/scoop (#6)
As an Amazon Associate, I may earn a small commission when you click a link and make a purchase. Thank you for supporting Yappy Kitchen!