Not too sweet, not too tart. This Iced Tea Lemonade is the refreshing drink you'll want in your refrigerator all summer.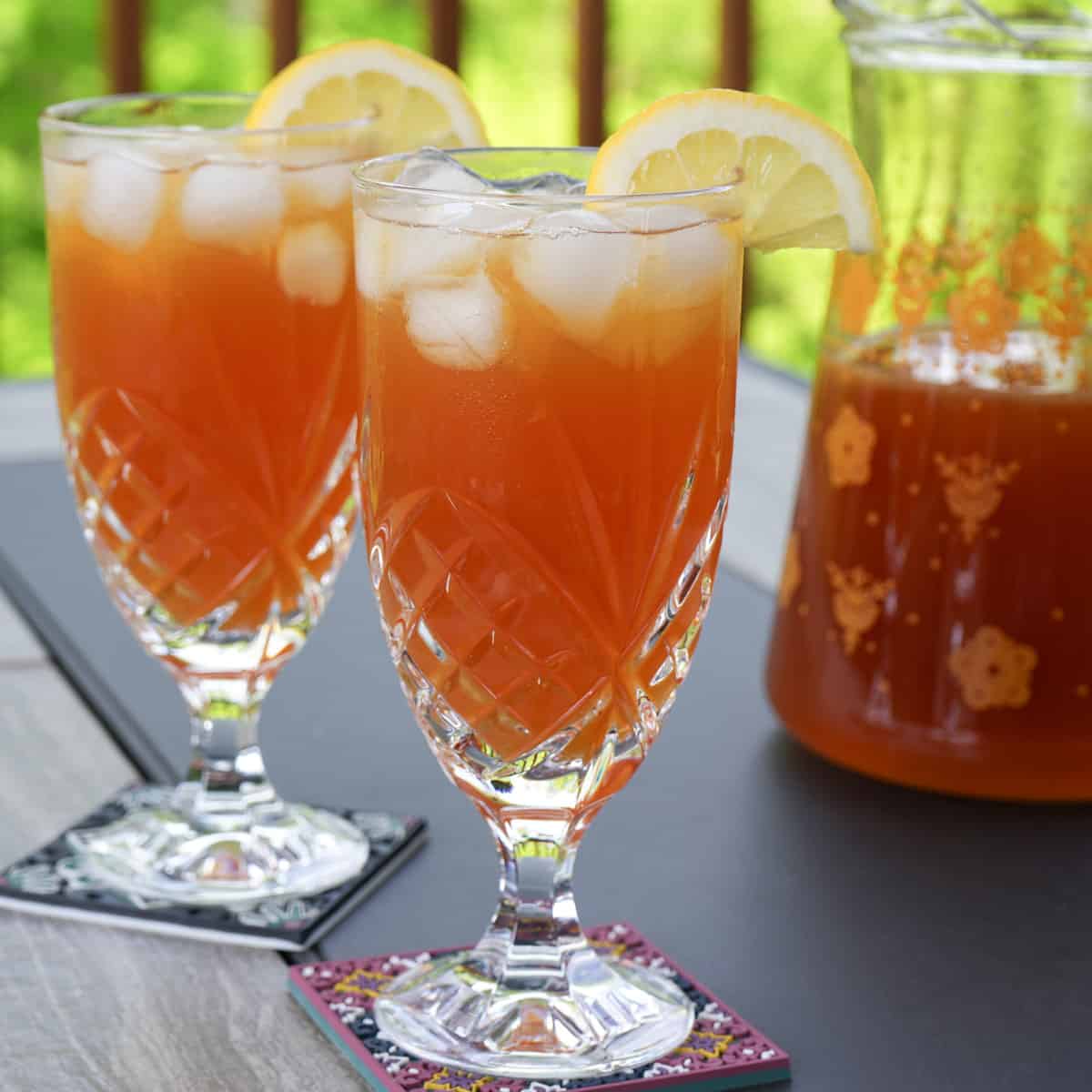 This iced tea lemonade is great any time of year, but it is especially refreshing in the warm days of summer. It's so many things:
the perfect porch-sittin' drink
the thirst-quencher after yard work
a crowd-pleaser at a barbecue
what's in your other hand when you're flipping grilled turkey burgers
And we have the legendary golfer, Arnold Palmer, to thank for such a tasty, versatile beverage.
Good Housekeeping magazine wrote about it in this article posted online in 2016. It's a quick read that brings a smile. As the story goes, he "invented" it by suggesting to his wife that they add a little lemonade to a pitcher of iced tea.
It was so delicious and refreshing that he began ordering it in restaurants by describing it to waiters and waitresses. It caught on, and now is simply known as an "Arnold Palmer".
Jump to:
Ingredients
Lemonade iced tea only has four ingredients, plus water and ice.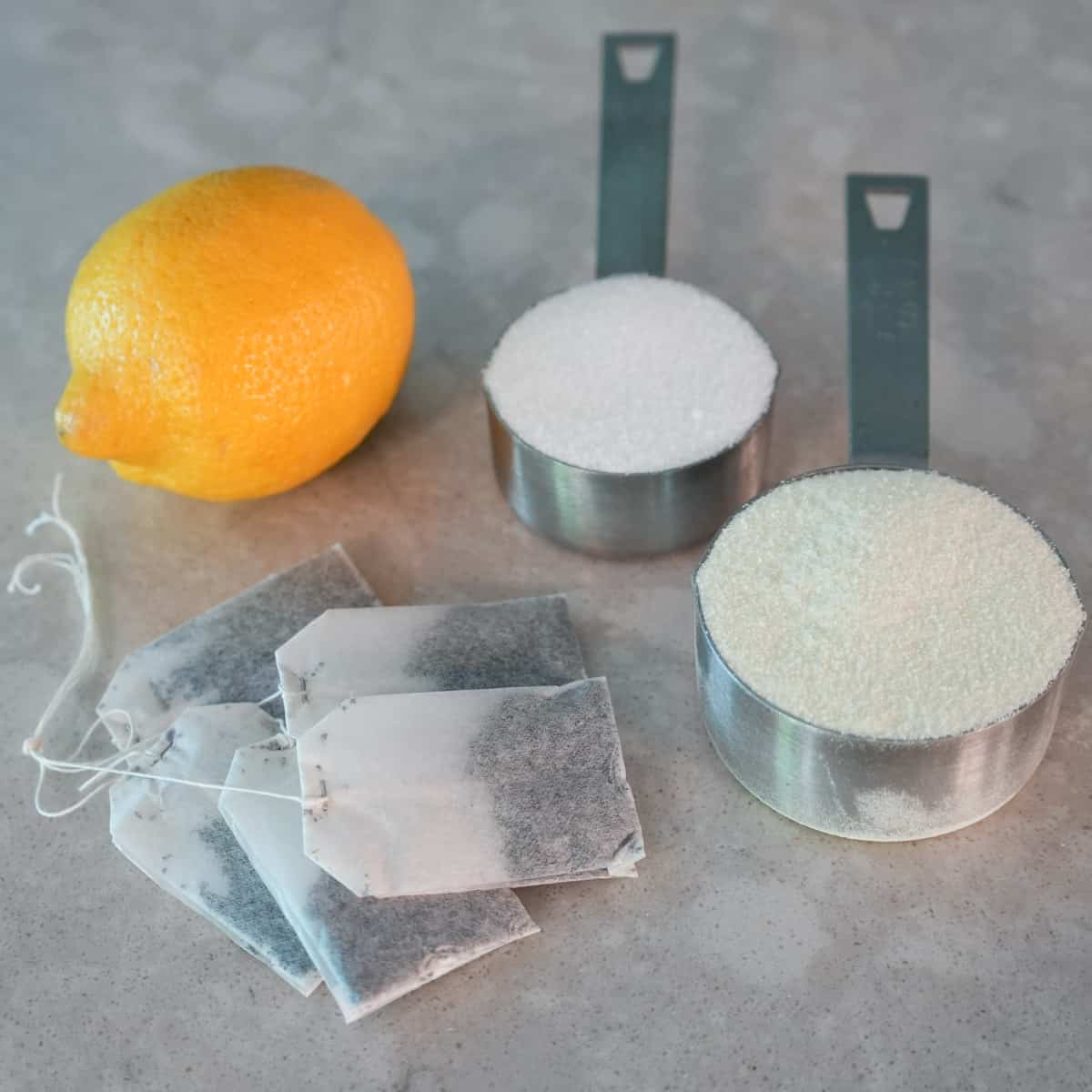 a lemon
tea bags
sugar
powdered lemonade drink mix
See recipe card for quantities.
Instructions
What makes this recipe so great is that the tea is freshly brewed. Yes, there are mixes you can buy that are powdered tea and lemonade, but brewing the tea really elevates it.
The recipe is just two steps. One - you brew the tea in sugar water. Two - you combine all the ingredients in a pitcher. It's so incredibly easy for the amazing flavor you get!
Place two cups of water in small saucepan with sugar. Stir and tea bags.
Here I juiced the lemon into the water that got added to pitcher, simply because my pitcher is too tall for this juicer.
Remember to keep an eye on the tea and turn off the heat when the water boils. If the teabags are in a boil, you risk one of them tearing. This is not harmful, but it will scatter tea leaves throughout your tea.
If that happens, the fix is easy. Simply strain it through a fine mesh strainer like this one as you pour it into the pitcher.
Substitutions and Variations
It's amazing how many options can apply to a recipe with so few ingredients. Make it your own by experimenting with flavors or grown-up versions.
Flavored Teas - mix it up by using different flavored teas like peach, orange, raspberry, or mint.
Decaffeinated - use decaffeinated teas like chamomile or peppermint tea.
Fruits & Herbs - try different garnishes like fruits (blueberries, strawberries) and herbs (mint, basil).
Adult friendly - add a splash of vodka, rum, whiskey, or lemoncello for a grown-up version.
Or combine some of these ideas and do something like peach green tea lemonade!
Drop us a note in the comments to let us know your favorite combos. Chances are, we'll want to try them, too!
Equipment
There's a really good chance you already have the equipment you need for this recipe. Here are my go-tos and why I love them:
All-Clad 1-Quart Stainless Steel Sauce Pan - It's the perfect size for boiling two cups of water to steep tea. I also like it for warming butter, making oatmeal, and heating up soup or leftovers. And, heck, it's kinda bowl-sized, so when Doug's not home, I'll eat right out of this pan - HA! Listen it's pricey. All-Clad is, but it's worth it, especially if you can get it on sale.
Either a manual juicer or an electric juicer makes it much easier than juicing a lemon by hand. A manual juicer gives great results, but nothing beats my Breville Citrus Press Pro electric juicer. It's so fast, and I love that it gets every drop of juice from my citrus.
A long-handled wooden spoon is what you need to stir your iced tea lemonade. This set has that, plus a few others that are essentials in the kitchen.
Although the photo shows my vintage Corelle pitcher, I own and highly recommend a colorful Fiesta disc pitcher. It holds a little over a half gallon - perfect for this recipe. And the Art Deco style is never out of style.
Storage
Store iced tea lemonade in the refrigerator for up to seven days.
Iced tea lemonade can also be poured into ice cube trays and frozen. Use iced tea lemonade cubes instead of ice to enjoy your iced tea lemonade undiluted.
Top Tip
Be gentle with the tea bags, especially when they're wet. A torn tea bag will cause your iced tea lemonade to have tea leaves in it. It's not harmful, but it's not pretty, either.
FAQ
What is iced tea and lemonade called?
A blend of iced tea and lemonade is called many things. It is often called an "Arnold Palmer", after the legendary golfer who made it popular, but it's also known as a "half and half", or "half lemonade half tea". Or you can simply call it "lemonade iced tea" or "iced tea lemonade".
How much caffeine in iced tea lemonade?
It depends on the type of tea you use and how strong you make it. Steeping tea longer will increase the caffeine. Here's what you can expect from a standard tea bag for different types of teas:
Black tea = 47-55 mg
Green tea = 20-45 mg
White tea = 6-60 mg
Chamomile tea = 0 mg
Peppermint tea = 0 mg
Related
Looking for another drink recipe? Try this:
Pairing
These are my favorite dishes to serve with Iced Tea Lemonade: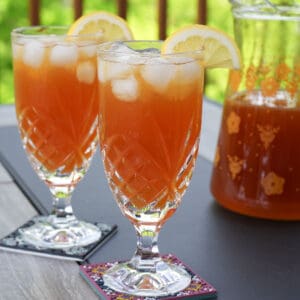 Ingredients
1

lemon

more for garnish, if desired

8

cups

water

divided

5

tea bags

I use black tea.

⅓

cup

sugar

To reduce the amount of sugar, use equivalent amount of sugar-free sweetener.

½

cup

powdered lemonade drink mix

I use Country Time.
Instructions
Place sugar and two cups of water in small saucepan over medium heat. Stir until sugar is dissolved, then add tea bags.

When water boils, remove from heat and let tea steep for six minutes.

While preparing tea, place remaining six cups of water in 64-ounce pitcher.

Juice lemon into water in pitcher.

Add lemonade drink mix. Stir until dissolved.

Remove tea bags from saucepan and add tea to pitcher.

Fill glass with ice and pour lemonade iced tea over ice. Garnish with fruit and/or herbs and serve.
Nutrition
Serving:
8
ounces
|
Calories:
88
kcal
|
Carbohydrates:
23
g
|
Protein:
0.1
g
|
Fat:
0.2
g
|
Saturated Fat:
0.01
g
|
Polyunsaturated Fat:
0.01
g
|
Monounsaturated Fat:
0.001
g
|
Sodium:
19
mg
|
Potassium:
39
mg
|
Fiber:
0.4
g
|
Sugar:
22
g
|
Vitamin A:
4
IU
|
Vitamin C:
13
mg
|
Calcium:
13
mg
|
Iron:
0.1
mg
Equipment
Godinger iced tea glasses
As an Amazon Associate, I may earn a small commission when you click a link and make a purchase. Thank you for supporting Yappy Kitchen!
Food safety
Food safety is always so important. Here are a couple health and safety tips that apply to this recipe, especially if you are preparing other items at the same time.
Always refrigerate iced tea lemonade at a temperature between 32 and 41 degrees F.
Do not use the same utensils on cooked food, that previously touched raw meat.
Wash hands before preparing food or drinks, and always after touching raw meat.
Don't leave food sitting out at room temperature for extended periods.
Never leave cooking food unattended.
Always have good ventilation when using a gas stove.