When the days get cooler, it's time to turn on the oven and let the savory aroma of bacon-wrapped mini meatloaf fill your house.
Instead of baking one large meatloaf, try these minis. They don't take but a few extra minutes. What you get in return are adorable individual portions with an excellent glaze-to-meat ratio in every bite. And the individual portions are so easy to serve.
For real. What's not to love?
When we make these at home, we like to pair them with our creamy mashed potatoes and simple roasted carrots. That meal hits the spot every time!
Meatloaf. Mashed potatoes. Carrots. SO GOOD.
Jump to:
Ingredients
Let's talk about a few ingredients and why I recommend these variations.
When making this recipe, I recommend using 90-95% lean ground beef. You'll lose volume in your meatloaves with a higher percentage of fat (80-85% lean), which will leave more melted fat in the pan. Higher fat content will yield meatloaves that smaller overall but higher in calories.
Thick-sliced bacon definitely has its place for sure, but regular/thin bacon slices are the better choice here. The thick slices are too chewy and not quite done enough when the meatloaves are ready to be glazed. The regular and thinner slices definitely have a better bite in the finished recipe.
And finally, I prefer whole milk in this recipe. The meatloaf mixture is already a bit on the wet side. A thinner milk will make the meatloaves more difficult to shape. The difference between using ½ cup of whole milk vs ½ cup of fat free (skim) milk is less than five calories per meatloaf. That may or may not matter to you. Just saying.
Instructions
These photos show why I don't glaze the meatloaves before they bake. I've tried it, and it prevents the bacon from crisping. It cooks, but it's too chewy in my opinion. So I glaze after the meatloaves have baked, then pop them back in the oven so the glaze gets a little sticky.
Here the bacon is cooked nicely. You can also see that now much fat is released from the 95% lean beef.
This picture shows the finished meatloaves after the glaze has baked on them.
Equipment
This Le Creuset non-stick cake pan isn't just for cakes. I love it for these mini meatloaves, because it makes clean-up so incredibly easy! A quick wash in the sink with a soapy dish cloth, and it was clean as can be. This pan size also gives the meatloaves enough room for the heat to circulate around them so they bake well.
My red santoku chefs knife and red cutting board are what I use when slicing raw bacon. In a professional kitchen, utensils are color-coded to avoid cross-contamination. Red is for raw meats such as beef and pork.
Storage
Bacon-wrapped mini meatloaf will store in a covered container in the refrigerator for up to seven days.
Baked or raw meatloaves can be frozen in a sealed freezer bag for up to three months. Do not glaze the baked meatloaves if you plan to freeze them.
To bake frozen raw meatloaves, thaw overnight in the refrigerator. Bake and glaze as directed in recipe.
To reheat frozen baked meatloaves, thaw overnight in the refrigerator. Bake covered at 350 degrees F for 30 minutes or until internal temperature reaches 165 degrees F. Glaze, then bake uncovered for an additional 10 minutes.
Top tip
Resist the temptation to buy thick sliced bacon for this one. Regular or thin sliced bacon will bake much better on the meatloaves.
Pairing
These are my favorite dishes to serve with these mini meatloaves.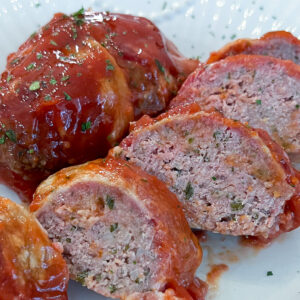 Ingredients
6

slices

bacon

1

pound

ground beef

90-95% lean

3

slices

white bread

½

cup

grated parmesan cheese

2

eggs

½

cup

milk

⅛

cup

fresh italian flat-leaf parsley

chopped

1/16

teaspoon

black pepper

⅜

teaspoon

fine sea salt
BBQ Glaze
½

cup

ketchup

⅛

cup

brown sugar

½

teaspoon

mustard powder
Instructions
Preheat oven to 350 degrees F.

Tear bread into tiny pieces and place in large mixing bowl. Add milk and let sit a few minutes for bread to get soft and mushy.

Add eggs and stir with fork or whisk until eggs are well mixed.

Stir in cheese, parsley, salt & pepper. Mix in ground beef.

For each pound of ground beef used, form into six equal loaves. Place mini meatloaves in baking pan.

Cut bacon slices in half. Lay two bacon strips across the top of each mini meatloaf. Tuck ends under each loaf.

Prepare bbq glaze while meatloaves are baking. Combine ketchup, brown sugar, and mustard powder in bowl.

Remove meatloaves from oven. Bacon should look well cooked but not dark.

Using a basting brush, top meatloaves with bbq glaze.

Bake another 10 minutes.
Nutrition
Calories:
336
kcal
|
Carbohydrates:
19
g
|
Protein:
25
g
|
Fat:
17
g
|
Saturated Fat:
7
g
|
Polyunsaturated Fat:
2
g
|
Monounsaturated Fat:
7
g
|
Trans Fat:
0.3
g
|
Cholesterol:
126
mg
|
Sodium:
758
mg
|
Potassium:
457
mg
|
Fiber:
0.4
g
|
Sugar:
10
g
|
Vitamin A:
401
IU
|
Vitamin C:
2
mg
|
Calcium:
150
mg
|
Iron:
3
mg
Equipment
oxo angled measuring cup, 1 cup
4.75 oz disher/scoop (#6)
As an Amazon Associate, I may earn a small commission when you click a link and make a purchase. Thank you for supporting Yappy Kitchen!
Food safety
Cook meatloaves to a minimum temperature of 165 °F (74 °C)
Do not use the same utensils on cooked food, that previously touched raw meat.
Wash hands after touching raw meat.
Don't leave food sitting out at room temperature longer than an hour.
Never leave cooking food unattended.