These creamy mashed potatoes are naturally gluten-free, uncomplicated and delicious. They take very little time to make and complement countless entrees. And they are equally at home on an elegant holiday dinner table or a random weeknight pots-on-the-stove buffet.
We paired these with roasted carrots and bacon-wrapped mini meatloaves last weekend. Perfection.
We packed the leftovers to take for our lunches the next day. It's the kind of lunch I wanted to eat every day of the week. So yummy.
And these potatoes reheat really well, too. It's the fat content in the cream and butter that makes them so good the next day... and the day after that.
Jump to:
Instructions
With thin-skinned potatoes like Yukon Golds or Reds, peeling the skin is optional. I would always peel the skin if using Russet baking potatoes, because they're thick and don't mash well. Today I'm using my favorite Yukon Gold potatoes, and I decided to leave a bit of the skin on there - for added nutrition and visual interest.
I peeled off the parts that had dig marks or dark spots. Then I dug out the eyes with the end of my vegetable peeler.
This shows you how I cut the potatoes into approximately 1" pieces. Keeping the pieces uniform in size is important.
Substitutions
Mashed potatoes are more flexible than a yogi. 🧘🏻‍♀️ Here are some substitutions you can use to accommodate different diets and preferences. The potatoes will not be as creamy, of course, but the flavor will still be great!
Cream/milk - Instead of heavy cream, you can use whole milk, skim milk, or even chicken broth. This will lighten the calories for you.
Butter/margarine - Margarine can be used in place of butter to further reduce calories.
Dairy-free - Replace the cream/milk with chicken or vegetable broth, and replace the butter with margarine to make this recipe dairy-free.
Vegan - Replace the cream/milk with vegetable broth, and replace the butter with margarine to make this recipe vegan.
Variations
Mashed potatoes are the perfect backdrop for layering in different flavors. Some ideas for elevating your spuds are:
Roasted garlic - Roast a head of garlic, and mash a few cloves in with the potatoes for added flavor. Heck, add the entire head. Whatever makes your heart sing.
Grated cheese - Add ¼ to ½ cup of grated/shredded Parmesan or cheddar cheese. Stir until melted through the potatoes. It's best to grate/shred the cheese yourself, since the canned or bagged stuff is coated to not clump doesn't melt as well in recipes. But really. Any cheese is better than none.
Gravy - These creamy mashed potatoes are terrific on their own, but please do smother them in a gravy of your choice if that's your thing. I do love mashed potatoes and gravy, so yeah... highly recommend!
Equipment
Mashed potatoes don't require a lot of equipment. Certainly nothing fancy. However, there are two kitchen tools that I use every time.
Hand Potato Masher. This item will have a big impact on how your potatoes will turn out. Hand potato mashers will produce a little more rustic consistency, as it will have some lumps. I love my mashed potatoes a little bit lumpy, but not everyone does. For smaller lumps, you can use this style potato masher. And for extra smooth mashed potatoes without lumps, use a potato ricer - just make sure you peel those potatoes completely before boiling.
Vegetable Peeler. This guy is great for peeling all kinds of vegetables. I love the wide, grippy handle. The blade stays nice and sharp. The end is designed to dig out the eyes of potatoes. Just insert the end beside an eye and spin it making a circle around the eye. Quick and easy. Such a great little tool.
Storage
Refrigerate leftover mashed potatoes in a covered container for up to seven days.
Potatoes will freeze well if you use cream and butter in your recipe. Place potatoes in freezer bags that are labeled and dated, and freeze for up to three months. Thaw overnight in refrigerator.
Pro Tip
Mash potatoes by hand with a potato masher or a potato ricer.
You might think using a hand or stand mixer to mash the potatoes is a great idea, because it's fast and less work. The problem is electric mixers are too fast. They very quickly overwork the potatoes, releasing more and more starch. When that happens, the potatoes become gluey or gummy. And they become more splat than fluff. Nobody wants that.
FAQ
Are potatoes gluten free?
YES! Potatoes are naturally gluten free. They are perfectly safe for people who have gluten sensitivities or those with celiac disease.

Potato dishes only contain gluten when another ingredient has been added to it, like wheat flour. Examples of a potato dishes containing gluten are:
- battered French fries, where the batter contains wheat flour.
- potatoes au gratin, where the recipe has a cheese sauce made with flour.
Do dairy products contain gluten?
Dairy products in their pure form (like milk, butter, sour cream, cream cheese) do not naturally contain gluten.

The only time dairy products will contain gluten is when other ingredients have been added to it. Examples of those are flavorings, like dairy-based dips and some ice creams. Processed cheese sauces and cheese spreads could also contain gluten.
Related
Try more tasty, gluten-free side dishes like these: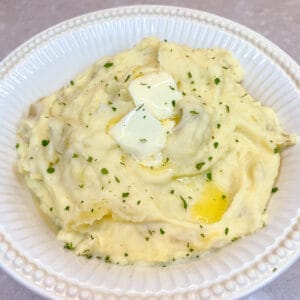 Ingredients
3

pounds

yukon gold potatoes

1

cup

heavy cream

6

tablespoons

butter

cut into 1-tablespoon pieces

1 ½

teaspoons

fine sea salt

½

teaspoon

black pepper

2

teaspoons

fresh italian flat-leaf parsley

chopped
Instructions
Peel potatoes, if desired, and remove eyes. Cut into 1" pieces.

Put potatoes into an 8-quart pot and cover with cold water.

Place pot on high heat until water comes to a boil. Boil for an additional 15-20 minutes or until potatoes are soft enough to pierce with a fork, and the fork comes right back out.

Drain potatoes and return to pot over low heat. Add butter pieces. Sprinkle with salt and pepper. Mash a little with potato masher to melt butter.

Alternately mash and add cream ¼ cup at a time until potatoes reach a consistency that you prefer. I like to use all of it (or almost all of it).

If you are using a thinner liquid (milk or broth), you may find that you need less than the amount listed. Adding a little at a time ensures that your potatoes don't end up too runny.

Taste and add more salt and pepper to taste.

Garnish with chopped fresh parsley, if desired. Serve hot. Enjoy!
Notes
Dairy-free - Replace the cream/milk with chicken or vegetable broth, and replace the butter with margarine to make this recipe dairy-free. Vegan - Replace the cream/milk with vegetable broth, and replace the butter with margarine to make this recipe vegan.
Nutrition
Calories:
308
kcal
|
Carbohydrates:
31
g
|
Protein:
4
g
|
Fat:
19
g
|
Saturated Fat:
12
g
|
Polyunsaturated Fat:
1
g
|
Monounsaturated Fat:
5
g
|
Trans Fat:
0.3
g
|
Cholesterol:
56
mg
|
Sodium:
522
mg
|
Potassium:
749
mg
|
Fiber:
4
g
|
Sugar:
2
g
|
Vitamin A:
706
IU
|
Vitamin C:
34
mg
|
Calcium:
43
mg
|
Iron:
1
mg
As an Amazon Associate, I may earn a small commission when you click a link and make a purchase. Thank you for supporting Yappy Kitchen!
Food Safety
Always be mindful of food safety!
Cooked food should never stay at room temperature for more than TWO HOURS.
Read more about food safety on the USDA web site.