If your pup is under the weather or you just want to add extra nutrition to their meals, boiled chicken and rice for dogs is a go-to. This super easy recipe cooks it all in one pot - with or without veggies added!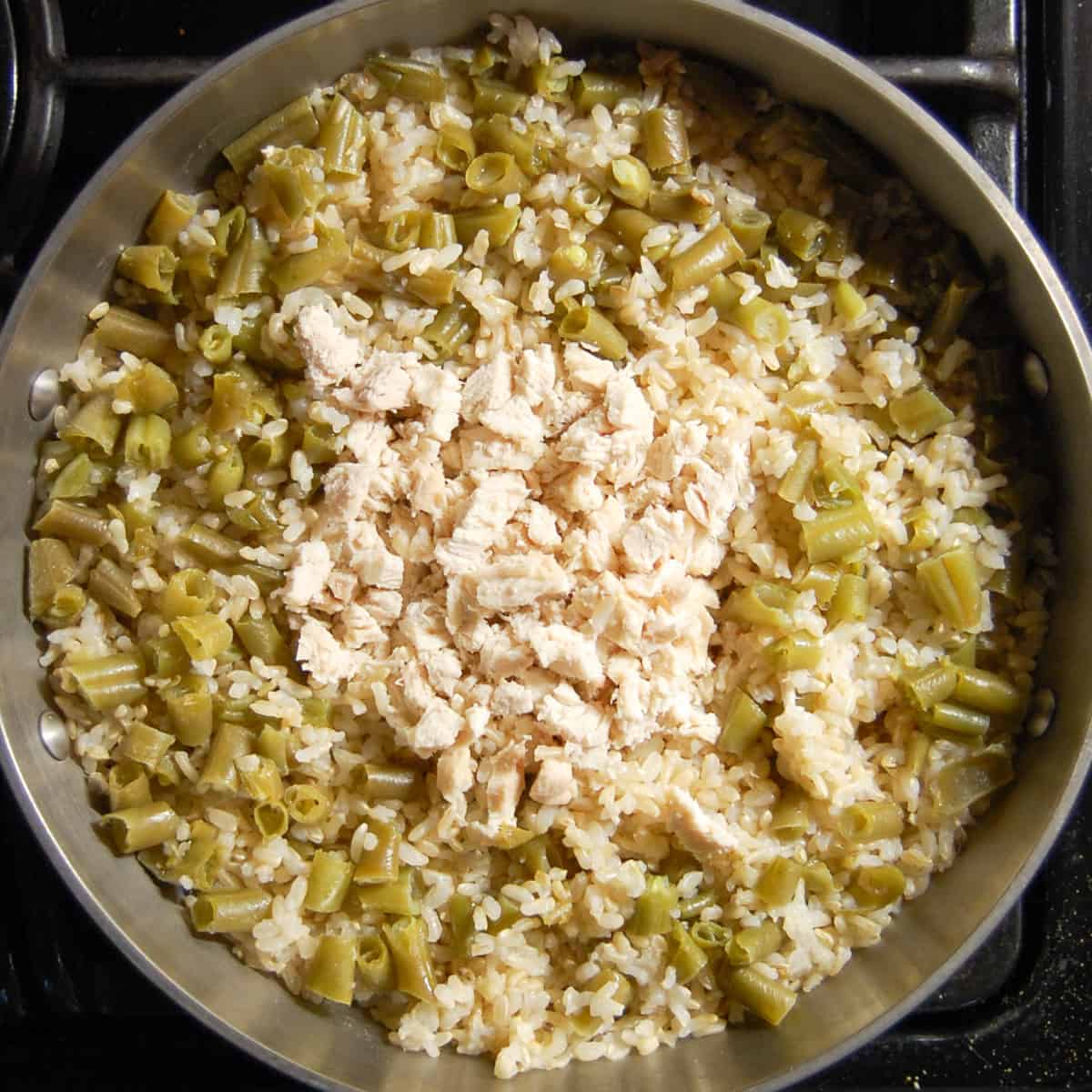 Anyone who's ever been owned by a dog has made boiled chicken and rice on at least one occasion. It's generally what the vet tells us to give for digestive issues like upset tummy or diarrhea, or when your pup is recovering from surgery.
Just like us - maybe they ate something they really should not have eaten. (Oh hi, deer poop!) Well, okay. Maybe not just like us. (But hey there, cheesecake!) It's always boiled chicken and rice for dogs to the rescue.
Jump to:
An Appetite Booster
Recently chicken and rice came to the rescue in a big way. Our AndyBobby had a malignant mass removed from his jowl last fall. The margins were very good, but his oncologist recommended a preventive round of chemotherapy. Thus, AndyBobby took a pill three times/week for three months. He had always been an enthusiastic eater, but this made his appetite start to wane.
I got worried and began to brainstorm ways to keep him interested in his meals. He's a bit of a carbaholic, so a couple tablespoons of this chicken and rice recipe mixed with his kibble did the trick. Of course, the other three dogs were "interested" as well. Since I'm kind of a softie, everyone got chicken and rice on their kibble. Meals had never been so exciting!
On December 18th, we received the good news that AndyBobby was cancer-free. It was the best Christmas gift we could have been given!
Now it's February, and we are still making chicken and rice for dogs. I like that they get the added health benefit of some whole foods each day. It only takes a few minutes and costs a couple bucks per week. They aren't the only ones who love it; I find joy in the extra tail wagging and woofing at breakfast and dinner.
How to Cook Chicken and Rice for Dogs
Cooking chicken and rice for dogs is super easy! Everything is combined in one pot, making cleanup a breeze.
I used to boil the chicken and steam the rice separately, then combine them in a bowl. Somewhere along the way, I realized it was more work than necessary. This easier, one-pot method allows for maximum flavor as the rice cooks in the juices from the chicken. Who loves easier AND better? 🙋🏻‍♀️ 🐶
This is how it looks once we take the lid off and prepare it for refrigerating and feeding.
So the photos aren't beautiful. 🤷🏻‍♀️ It's two white foods with some overcooked green beans. I'm sure any Michelin-star chef would make it look other-worldly, but my dogs couldn't give a monkey's Milkbone. And honestly, neither could I. If it helps put my pup's health back on track, that's what counts.
If your pup loves this recipe, he or she may also enjoy our Chicken, Barley & Veggies for Dogs recipe. Give it a try, too!
Storage
When refrigerating the chicken and rice right after cooking, make a crater in the middle of the mixture. Let cool on the counter for about 20 minutes, then cover and transfer to refrigerator for storing.
Chicken and rice for dogs will keep in the refrigerator for up to seven days.
To freeze, scoop balls of mixture onto a sheet pan lined with parchment paper. Freeze for an hour, then transfer to a freezer bag (labeled and dated). Frozen balls can be placed on a plate and microwaved for 20-30 seconds before adding to kibble.
Frozen chicken and rice for dogs will keep in the freezer for up to two months.
Top tip
Check the cooking time on your package of rice.
Whole grain brown rice will take around 45-50 minutes to cook and require more water than white rice. This is because whole grain brown rice still has the bran intact. It's also what gives it a brown/beige color.
White rice has been stripped of the bran and, therefore, takes 16-20 minutes to cook and requires less water than brown rice.
Be aware of these differences, so you don't accidentally scorch your rice. I recently purchased a bag of rice labeled brown rice at the grocery store. It looked brown in color, but the cooking time and water amount was like that of white rice. It also didn't have that nice chewiness of true brown rice.
We typically use brown rice for a daily meal topper. The vet will often recommend white rice, since it's less fibrous and may be gentler on an upset tummy.
Your dog will love either type of rice. We just want the recipe to turn out well for you and your pup. 🥰
FAQ
Is brown or white rice better for dogs?
It really depends on WHY you are feeding rice to your dog.

Brown rice still has the bran intact, so it contains more fiber. Brown rice is a lower-glycemic food than white rice. This means the sugars aren't absorbed into the bloodstream nearly as quickly.

Just like in humans, the fiber causes your pup to feel fuller longer. However, fiber is not as easily digested and is never recommended for gastrointestinal issues or diarrhea.

White rice, on the other hand, is very easily digestible. It is what veterinarians typically recommend for dogs with upset stomach. It is easy to eat, easy on the stomach, and is a quick source of energy.

Nutritionally, brown rice is the better choice for a healthy dog on a daily basis. White rice is your occasional go-to for helping your pup's guts feel better.

Always ask your vet which type of rice you should feed, based on your dog's health. PetMD also has an informative, short post about it here.
Can I feed my dog boiled chicken and rice everyday?
Well, yes and no.
YES. Chicken, rice, and a lot of vegetables are good for your dog. This recipe is designed to be easy on an upset stomach, initiate interest in food, and add variety to a dog's regular meals.
NO. This should not be ALL you feed your dog. Boiled chicken and rice for dogs (even with some veggies) is not nutritionally complete. Your pup needs additional vitamins and minerals that are absent in chicken and rice alone.

How much chicken and rice should I give my dog?
In our house, we generally give our dogs a couple tablespoons of chicken and rice mixed in with their kibble and a little warm water for each meal. We scale back their kibble a little to make up for the extra calories.

When we have a sick dog, our vet recommends that we give smaller meals of only chicken and rice for a day or so. This gives the dog's stomach a little bit of a rest while they're on the mend. Always ALWAYS consult with your veterinarian when your dog is not feeling well, and always take your vet's advice first and foremost.
Related
Your pup may also enjoy our other recipes for dogs. Give these a try, too!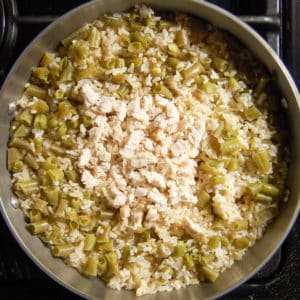 Ingredients
4

cups

water

2

cups

whole grain brown rice

See notes below for using white rice.

5

oz

BONELESS chicken breast

fresh or frozen; NEVER give chicken bones to dogs!

1

cup

green beans

optional, fresh or frozen; See notes below for safe veggies for dogs.
Instructions
Bring water to boil over medium-high heat.

Stir in rice. Place chicken breast and vegetables on top.

Cover and simmer on low 40-50 minutes or just until rice has absorbed all the water and steam holes are present.

NOTE: Whole grain brown rice requires a cooking time of around 50 minutes. If your rice package says about 20 minutes cooking time, be sure to check it after that amount of time.

I've purchased rice at the grocery store that said brown rice on the package. It must not have had the bran intact, as it only took about 20 minutes to cook.

Using kitchen/poultry shears, cut chicken and vegetables into small pieces. Stir to combine.

Place in container and create a hole in the middle; refrigerate for four hours then cover. (This step is for food safety, so it cools adequately before covering.) Keep refrigerated; good for seven days.

Add two tablespoons of chicken & rice to each cup of your dog's kibble at meal times. We always add a little warm water to lightly moisten as well. Stir and watch them enjoy! A-rooo!
Notes
Make sure that the vegetable(s) you add are good for dogs.  Broccoli, squash, carrots, green beans & peas are all good for dogs.  Garlic, onions, grapes, and raisins are NOT good for dogs.
If using white rice, use 1 ¼ cups water for each cup of rice.  Simmer for 18-20 minutes.  Make sure that the chicken has reached an internal temperature of 165 degrees F.  Dogs can get salmonella, too!
This recipe supplements breakfast and dinner for four dogs (50-70 pounds each) for about a week.  Scale to make the amount appropriate to last about a week for your dog(s).
Nutrition
Serving:
2
Tablespoons
|
Calories:
28
kcal
|
Carbohydrates:
5
g
|
Protein:
1
g
|
Fat:
1
g
|
Saturated Fat:
1
g
|
Trans Fat:
1
g
|
Cholesterol:
2
mg
|
Sodium:
4
mg
|
Potassium:
32
mg
|
Fiber:
1
g
|
Sugar:
1
g
|
Vitamin A:
14
IU
|
Vitamin C:
1
mg
|
Calcium:
4
mg
|
Iron:
1
mg
Equipment
oxo angled measuring cup, 1 cup
18x12 yellow cutting board
As an Amazon Associate, I may earn a small commission when you click a link and make a purchase. Thank you for supporting Yappy Kitchen!