Let's yap about sneaking healthy vegetables into party food.
So festive! These little spinach artichoke tarts are great any time of year, but these cuties are an absolute must for the holidays. They take a little time to fill, but they sure do make an impression. If you're hosting or going to a party and want a dish with Wow Factor, this is it.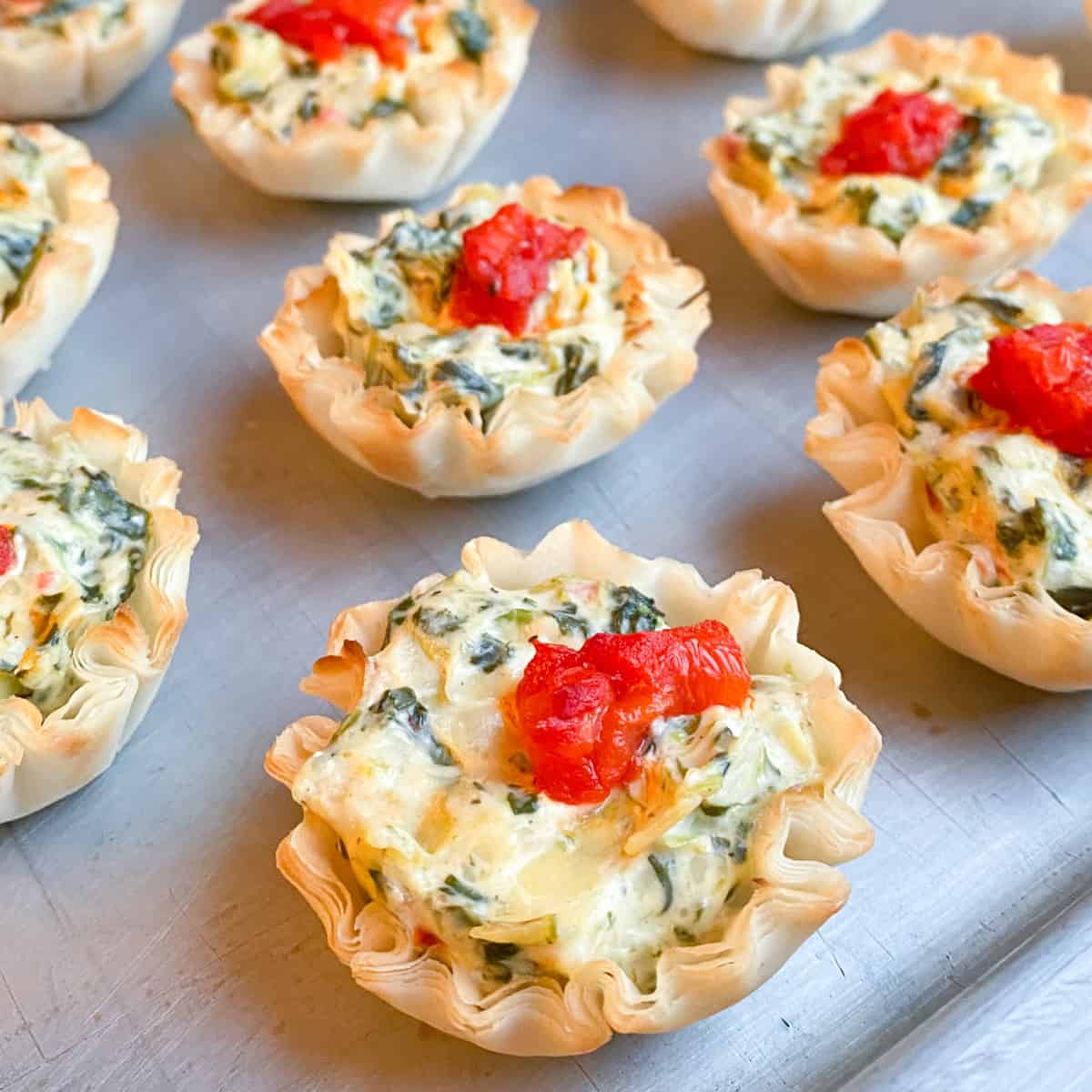 Inspired by Olive Garden, this recipe is my spin its famous appetizer without all the hassle of preparing fresh artichokes. Because - dang! - who has time for that? Heck - To - The - No.
And if you're not about the fuss with artichokes OR filling mini phyllo cups with a small scoop, make it extra easy on yourself. Simply put the filling in a small casserole dish, bake a bit longer, and serve with tortilla scoops, crackers, pita chips, or crostini. Like this:
Ta da! It's go-to dip for any holiday party, Super Bowl party, birthday party, potluck dinner, or a NetFlix binge in pajamas.
I made a TON of these tartlets when I had my catering business. They were easily one of the most popular menu items. Clients loved them because they fit very well into a holiday theme. Clients ordered them over and over, because they taste SO GOOD.
You know what else is good? Spread the dip on some chicken breasts or a hearty fish like salmon or swordfish, garnish with the red pepper, and bake about 20-25 minutes or until done. Just make sure your chicken reaches 165 degrees F; fish should reach 145 degrees F. It's that easy to make a quick and fancy dinner!
Oh my gosh... this dip has so many possibilities. One thing is for sure: it's addictive no matter which way you serve it!
Instructions
filling / dip
Place frozen spinach in saucepan and heat on low, stirring and flipping it occasionally, until it has completely thawed and most of the liquid has evaporated.

While the spinach is heating, roughly chop artichoke hearts and finely chop roasted red peppers. Reserve half of the roasted red pepper for garnish.

Add artichoke hearts, half of the roasted red peppers, garlic, salt and pepper to spinach and heat through. If you like a little kick, add the red pepper flakes, too.

Stir in cream cheese and parmesan until heated through and cheeses are melted.
prep
Using a ½-ounce scoop, fill mini phyllo cups and garnish with the spinach & artichoke mixture.

Garnish each cup with a very small amount of the remaining roasted red pepper. I use a dash mini measuring spoon.
bake, if desired
In an oven preheated to 350 degrees F, bake tartlets for 10 minutes, dip for 15-20 minutes, or until heated through.

Serve dip with tortilla chips, crackers, pretzels, pita chips, or crostini. Low carb options include celery sticks, carrot chips (slice carrots about ⅛" thick on a diagonal), cauliflower, broccoli, thickly sliced red bell pepper.
Notes
PRO TIP:  If you are taking these to a party, save the plastic trays from the mini phyllo cups packages.  Once your tartlets cool, transfer them back into the trays for easy transport.
NOTE:  Nutrition information is calculated with mini phyllo cups.  Each cup contains 2 g carbohydrates and 8 mg of sodium.
Nutrition
Calories:
46
kcal
|
Carbohydrates:
3
g
|
Protein:
2
g
|
Fat:
3
g
|
Saturated Fat:
1
g
|
Cholesterol:
8
mg
|
Sodium:
107
mg
|
Potassium:
26
mg
|
Fiber:
1
g
|
Sugar:
1
g
|
Vitamin A:
605
IU
|
Vitamin C:
2
mg
|
Calcium:
27
mg
|
Iron:
1
mg
Equipment
18x12 green cutting board
1.7 qt oval au gratin baking dish
As an Amazon Associate, I may earn a small commission when you click a link and make a purchase. Thank you for supporting Yappy Kitchen!