Let's yap about community.
Nellie's Cabbage Rolls is an original, authentic Polish recipe passed from neighbor to daughter to friend. It's simple comfort food in its purest form, and I'm excited to share it with you.
From before I was born until I was a young adult, my Pappap was the Fire Chief of our small town's volunteer fire department. Grandma was a member of the ladies auxiliary. In that social hall, my family ate more meals than I can count with more folks in our community than I can possibly remember.
Simpler Times
It was a time when people shared a meal then sat around on metal folding chairs for hours, talking and laughing. Schedules weren't tight. No one had to make a quick appearance and scurry off to something else. Being present in the moment wasn't a thing you had to practice; you just were.
Wedding receptions, baby showers, birthdays, Christmas parties, funeral luncheons, dances, school banquets, first communions, bingo... you name it. Those auxiliary ladies fed everyone with their family recipes straight from Europe, mostly Italy and Poland.
This scene wasn't exclusive to fire halls. Every church in western Pennsylvania had a fellowship hall with the ladies' home-cooking starring at every event.
There is nothing on earth like the food prepared by auxiliary ladies and church ladies. If you want comfort food, the search begins and ends there.
The Best Parts
You would find an old electric roaster full of steaming, simmering cabbage rolls on almost every buffet. And, boy, did I love 'em as a kid. Well, not the cabbage, but those middles! I'd eat the daylights out of those middles and leave a sizable pile of cooked cabbage on my plate. I can still hear the older folks saying I left the best part on the plate.
Sometimes you just long for those "best parts" of yesterday.
I wanted to learn how to make cabbage rolls like those ladies did with simple ingredients, wholesome goodness, and just enough flavor to escape being called bland. There's a welcome parallel to my childhood in that description.
From Nellie with Love
I asked the followers on our (sister blog) Grativibe facebook group for an introduction to someone who would teach me how to make those old-world cabbage rolls. My good friend, Betsy, said, "Let's make cabbage rolls, Kimmers! I'll teach you." I was thrilled!
While I watched Betsy and took photos, she told me her Italian mother learned to make cabbage rolls from their Polish neighbor, Nellie. She said cabbage rolls were considered peasant food, and she recounted how her good-natured father called them "Polish hand grenades" because of their shape & size. Betsy lovingly names every head of cabbage "Nellie" in honor of the recipe's history.
Like so many recipes passed down through the generations, this one was more like a general guide written down on a piece of scrap paper. Betsy had all the details typed out for me, though, so I could share it with you.
Here it is, from Nellie (and Betsy) with love.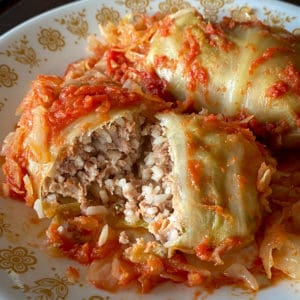 Ingredients
filling
1

pound

ground beef

1

pound

ground pork

1

yellow onion

large, diced

1

cup

white rice

long grain

2

eggs

2

tablespoons

fresh italian flat-leaf parsley

chopped

1

teaspoon

fine sea salt

½

teaspoon

black pepper

¼

cup

grated parmesan cheese

omit for Dairy Free
layering
28

ounces

canned whole tomatoes

or crushed

16

ounces

canned tomato sauce

1

pound

sauerkraut

drained and rinsed

6

slices

bacon

4

pork chops

bone-in and thin sliced
Instructions
cabbage
Bring a large pot of water to boil over high heat. Make sure the pot is large enough to submerge the entire head of cabbage.

Core cabbage and add to pot of water. Reduce heat slightly and cook for about five minutes, turning cabbage a few times, until leaves begin loosening.

With a long-handled fork or tongs, gently pull off leaves as they loosen and layer them in a pan to cool. Reserve cabbage water and inner/broken leaves.
filling
In a large bowl, mix together meat, onion, rice, eggs, cheese, parsley, salt, and pepper. Add a little cabbage water if necessary.
rolling
Before you begin rolling, preheat oven to 350 degrees.

Shape about ¼ cup (more or less depending on leaf size) of the meat mixture for each cabbage leaf. Use your hand to cup and shape rolls. Holding cabbage leaf in one hand with curve of leaf against your palm and core end near your wrist, place filling near bottom of leaf. Fold the bottom part of the leaf over the filling and fold sides in as you roll. Place filled leaves seam-side down in pan.
layering
Coarsely chop smaller cabbage leaves. Spread ½ the chopped cabbage on bottom of dutch oven, roaster pan, or sheet pan. Sprinkle ½ the sauerkraut, tomatoes, and sauce over cabbage.

Place half the cabbage rolls on the mixture in the pan. Top with half the remaining chopped cabbage, sauerkraut, tomatoes, and sauce. Place pork chops on top.

Add second layer of remaining cabbage rolls and ingredients, topping this layer with bacon slices. Pour ½ cup of water over the entire pan; do not mix.
baking
Cover pan tightly with lid or foil. Bake for 1 hour, checking after 30 minutes to see if it's bubbling.

Reduce oven temperature to 250 and continue to bake 1-1 ½ hours longer, or until rolls are tender and internal temperature reaches 165 degrees.

NOTE: If you only made one layer of cabbage rolls, they won't take as long to bake. Check for doneness every 30 minutes at this point.

Serve hot. Goes well with mashed potatoes and/or roasted carrots.
Nutrition
Serving:
1
roll
|
Calories:
201
kcal
|
Carbohydrates:
12
g
|
Protein:
12
g
|
Fat:
12
g
|
Saturated Fat:
4
g
|
Cholesterol:
53
mg
|
Sodium:
462
mg
|
Potassium:
401
mg
|
Fiber:
2
g
|
Sugar:
3
g
|
Vitamin A:
218
IU
|
Vitamin C:
22
mg
|
Calcium:
58
mg
|
Iron:
2
mg
Equipment
18x12 green cutting board
As an Amazon Associate, I may earn a small commission when you click a link and make a purchase. Thank you for supporting Yappy Kitchen!