Let's yap about finding comfort.
We can all use a little comfort about now. During this quarantine, I've been seeking solace by over-indulging in all my comforty go-tos: pajamas, sofa blankets, and carbs. On the daily.
While the entire country is hoarding yeast and baking bread, I'm over here boiling pasta and whisking up a delicious, creamy cheese sauce. Because nothing can provide comfort like homemade, from-scratch macaroni and cheese.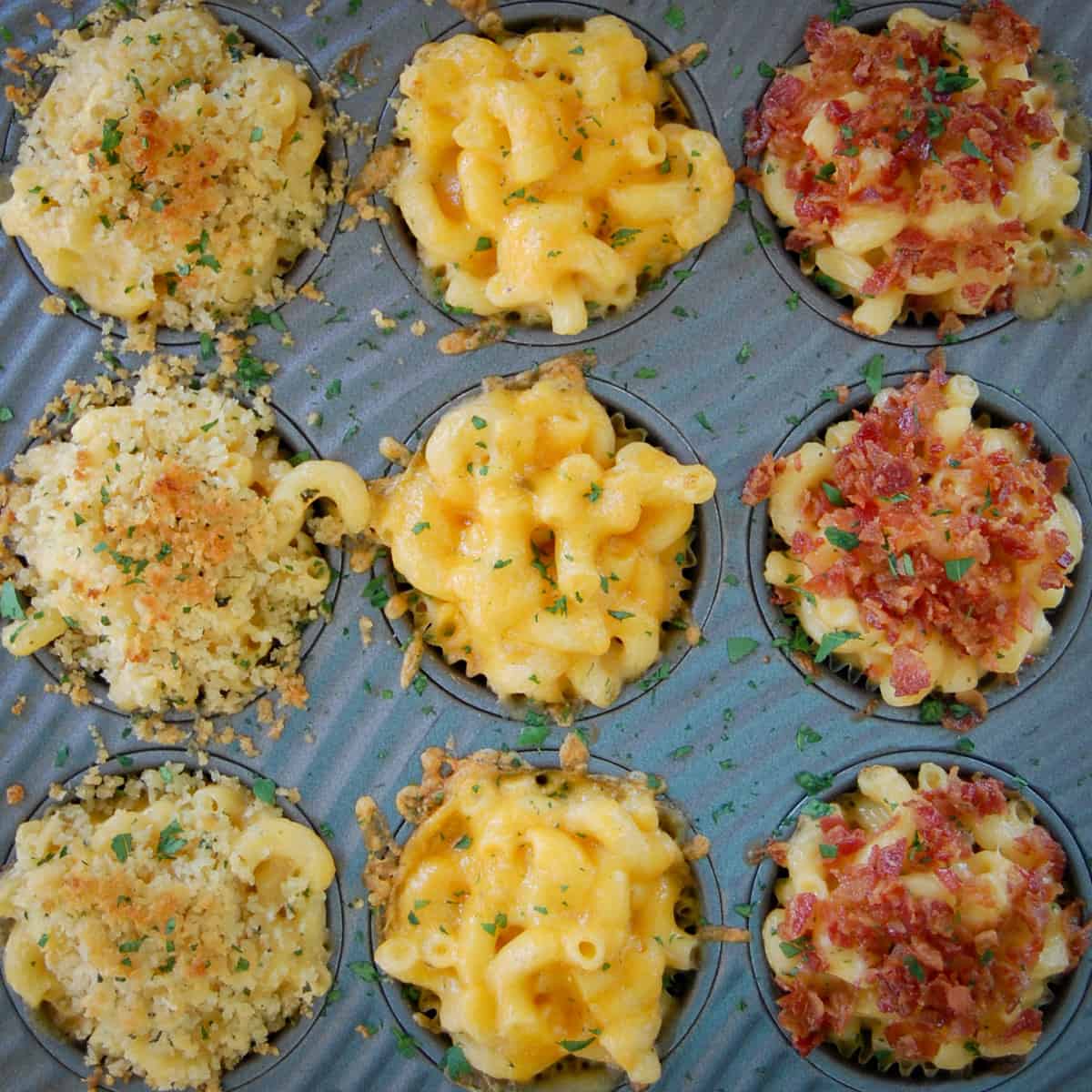 You know what makes a great mac & cheese even better? Toppings! Grown-ups and kiddos all love the toppings. I'm talking bacon, buttery breadcrumbs, and more cheese. Add more fun by baking them in muffin tins!
** PRO TIP **
Use grease-proof tulip baking cups.
Here's why.
These mac & cheese cups were the Number One most requested menu item from both my personal chef clients AND catering clients. I always baked them in these tulip baking cups, because I thought they looked better than regular cupcake papers. They always came out perfect. I never questioned it.
Now I know why I highly recommend you do the same. Because they are grease-proof, and that means everything! I had no idea until I baked them at home for this post. I naïvely thought I could use regular ol' cupcake baking cups. So I did.
Guess what happened, friends. Well, just imagine if I had lined each muffin cup with Kleenex. Yeah, like that. That's why you're not getting a photo of them outside of the pan. Oh, they were still delicious after picking off the soggy paper bit by bit, but save yourself the hassle. Learn from my goof. Those little points on the tulip cups don't just look pretty; they also allow you to lift these buggers right out of the pan with ease.
Eliminating the papers doesn't work, either.
If you think you can get away with spraying the pan and not using any papers... yeah, no. I tried that, too. Sure, they baked up just fine, but they didn't want to come out in one pretty piece. So you're not getting any photos of that, either.
Best Freezer Find Ever
In case you're wondering, we ended up with a LOT of mac & cheese after those fails. It's okay if you make a lot: they freeze marvelously! Just line them up inside a gallon-size freezer bag, seal the bag, and freeze flat. For a quick bite or mini meal, they go right from the freezer to the microwave.
Enjoy!
Ingredients
8

ounces

macaroni pasta

2

tablespoons

flour

¼

teaspoon

fine sea salt

⅛

teaspoon

black pepper

1

teaspoon

mustard powder

2

tablespoons

unsalted butter

2

cups

whole milk

8

ounces

cheddar cheese

shredded; 8 oz = approx. 2 cups

4

ounces

monterey jack cheese

shredded; 4 oz = approx. 1 cup -- We like to use pepper jack.

12

tulip baking cups

Do NOT use paper cupcake baking cups!
optional toppings to make four of each
¼

cup

bacon pieces

precooked

1

ounces

cheddar cheese

shredded, 1 oz = approx. ¼ cup

¼

cup

Buttery Breadcrumbs

2

teaspoons

fresh flat-leaf parsley

chopped
Instructions
In a large sauce pan, add about 2 teaspoons of salt to 4 quarts of water over high heat to bring to a boil. Add macaroni to boiling water for 7 minutes, stirring occasionally.  Drain in colander and toss with small amount of olive oil to prevent sticking.

In a prep bowl, combine flour, salt, pepper, and ground mustard.

In the same sauce pan used for the macaroni, make a roux by melting butter and slowly sprinkling in the flour mixture while whisking.  Cook over medium-low heat for 2 to 3 minutes while while whisking until the roux turns golden brown.

Whisk milk into roux a little at a time, whisking constantly to blend evenly and prevent lumps. Add cheeses and cook over medium heat while stirring until cheese has melted. Stir in macaroni until evenly coated with cheese sauce.

The cheese sauce will be thin at this point.  Let the macaroni sit for 10-15 minutes to thicken.

Place baking cups in a muffin pan. Stir macaroni to evenly distribute sauce and divide equally into baking cups. (A measuring cup works well.)

Sprinkle 1 tablespoon of cheddar jack cheese on ⅓ of the cups. Top ⅓ of the cups with the bacon pieces; top ⅓ of the cups with the panko bread crumb mixture.

Bake at 375 degrees F for 10-15 minutes or until cheese is melted and toppings are beginning to brown. Top with fresh chopped parsley before serving.
Nutrition
Calories:
246
kcal
|
Carbohydrates:
17
g
|
Protein:
13
g
|
Fat:
14
g
|
Saturated Fat:
9
g
|
Cholesterol:
43
mg
|
Sodium:
319
mg
|
Potassium:
122
mg
|
Fiber:
1
g
|
Sugar:
3
g
|
Vitamin A:
404
IU
|
Calcium:
274
mg
|
Iron:
1
mg
As an Amazon Associate, I may earn a small commission when you click a link and make a purchase. Thank you for supporting Yappy Kitchen!